TYLER, TEXAS - Bishop Thomas K. Gorman Catholic School is pleased to announce that by Decree of Bishop Joseph Strickland, the Pope St. John Paul II Chair of Catechesis and Evangelization has been established at the school. Bishop Strickland has designated Deacon Keith Fournier, JD, MTS, MPhil, as the first holder of this chair.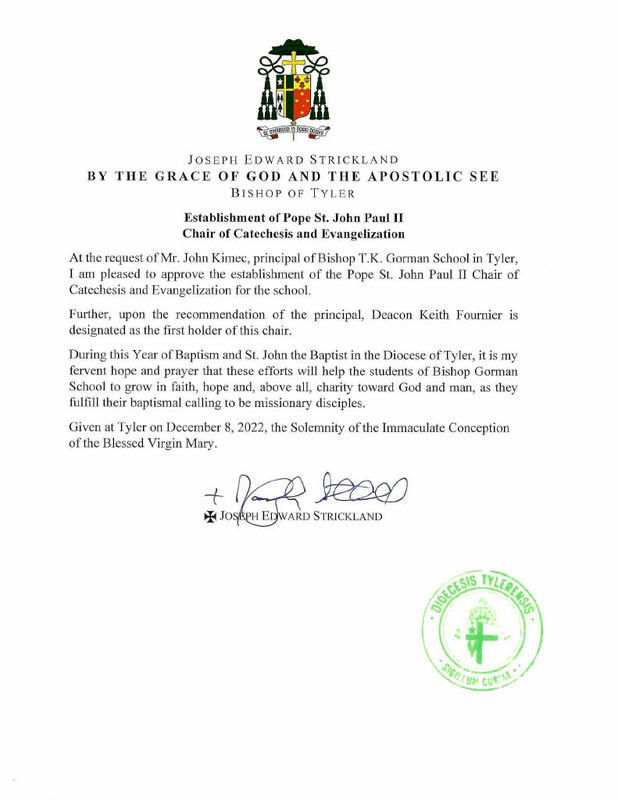 Mr. John Kimec, principal of Bishop Gorman, stated, "We are very blessed to have received this decree from Bishop Strickland. Deacon Fournier is invaluable as we live out our mission to form future saints and missionaries. As the representative of Bishop Strickland, our Chancellor, and the school, he serves as a tremendous theological advisor and most capable resource in our strategic planning efforts. We are most grateful for his service for our school and to the Church."
Deacon Fournier, Bishop Gorman's Dean of Catholic Identity since 2019, stated, "It is an honor to serve the Lord and His holy church as a deacon in service to Bishop Joseph Strickland, a true successor of the Apostles, in all that has been entrusted to him in the Diocese of Tyler by helping to prepare the next generation of saints and missionaries for His church and her mission to the whole world. Bishop Thomas K. Gorman Catholic School is a bright light in a world in need of such a light. I am deeply appreciative of this new invitation and opportunity."
The vision of Bishop Thomas K. Gorman Catholic School is to prepare and form future saints and missionaries, and its mission is to graduate young men and women of well-formed Catholic Christian character, virtue, holiness, and living faith who serve every segment of civil and ecclesial society with excellence. Bishop Gorman serves grades 6 through 12. For more information, visit www.bishopgorman.net.