Make plans to attend our "Bishop Gorman All Day Event" at Chuy's tomorrow! Show the fundraiser flyer, and Chuy's will donate a percentage of the proceeds to support the Crusader wrestling program. You can dine in or take out! #BGCru 💚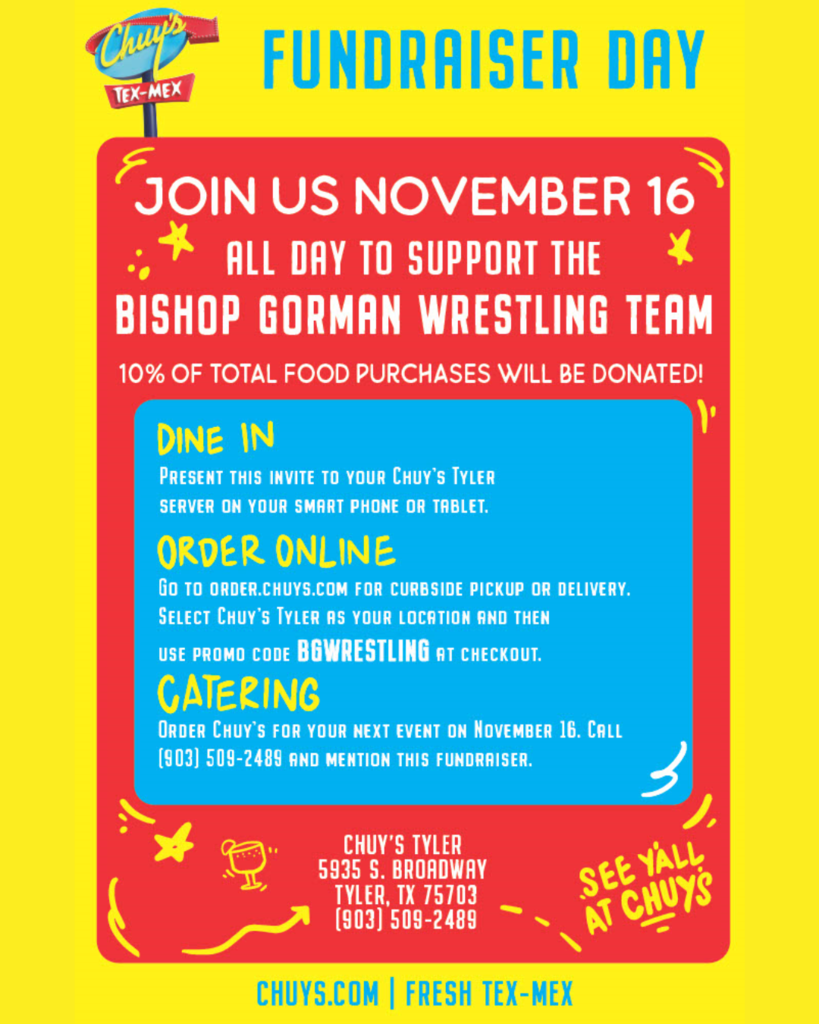 Let's go CRU! #BGCru #gameday #basketball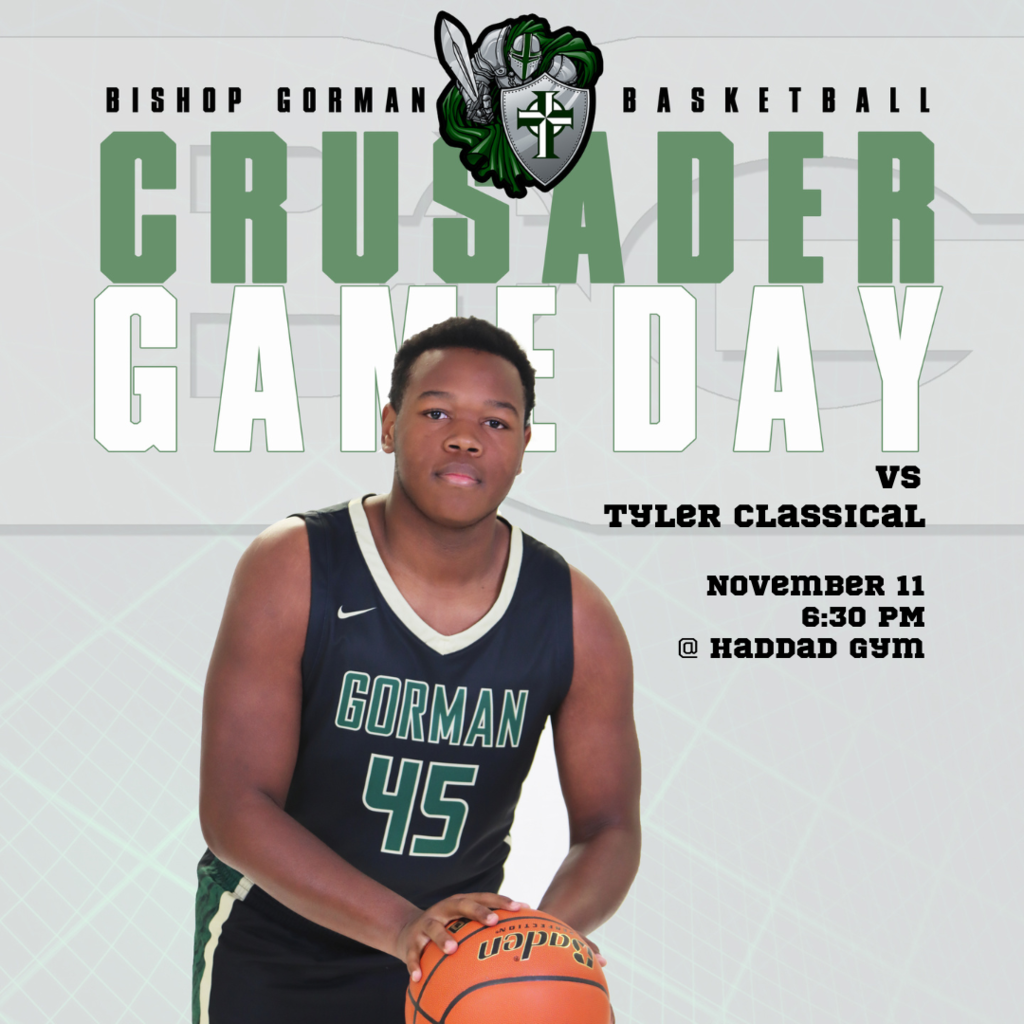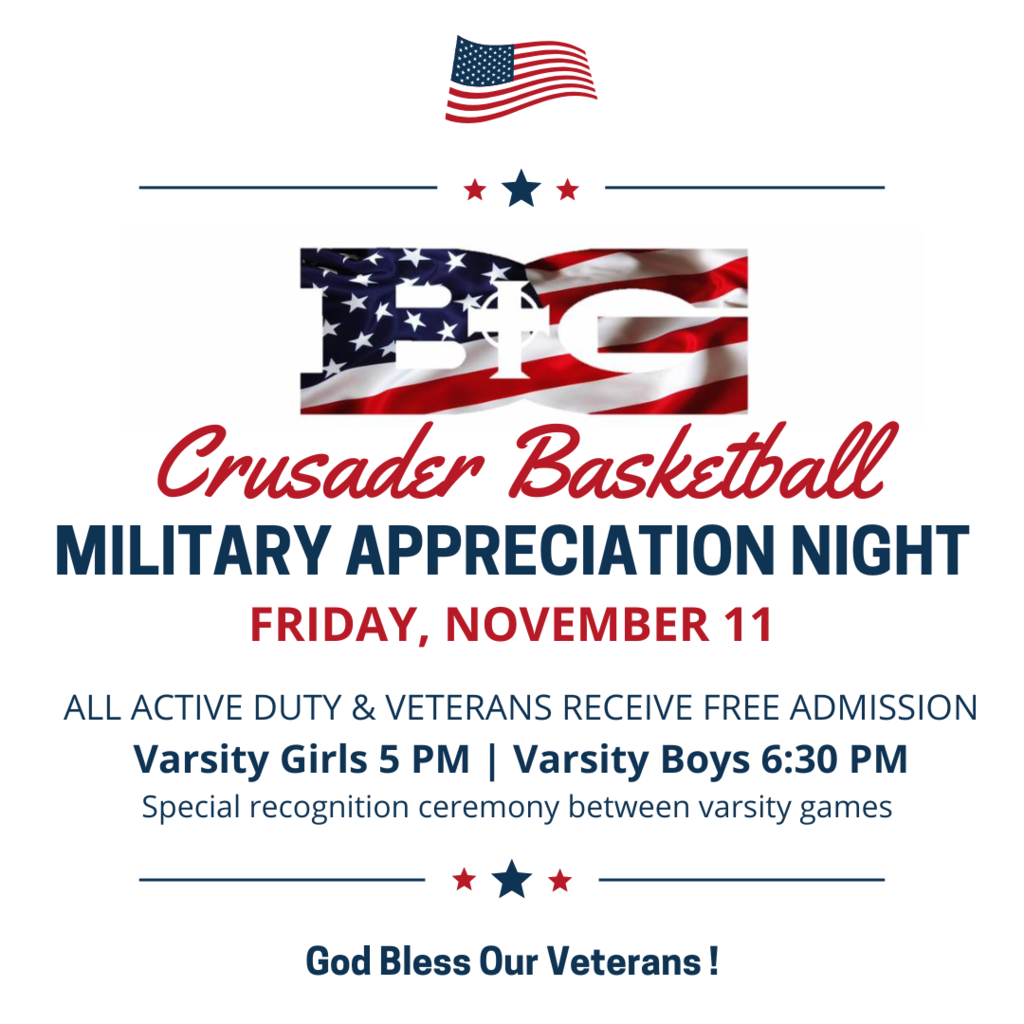 GOOD LUCK to the Crusaders as they compete in the playoffs in Hallettsville today! Thank you to Father Zach for sending off them off with a special blessing. GO CRU! For those who want to cheer on the Cru from home, click here to watch:
https://www.facebook.com/SacredHeartTexasBoosterClub/
#BGCru #gameday #playoffs 🏈💚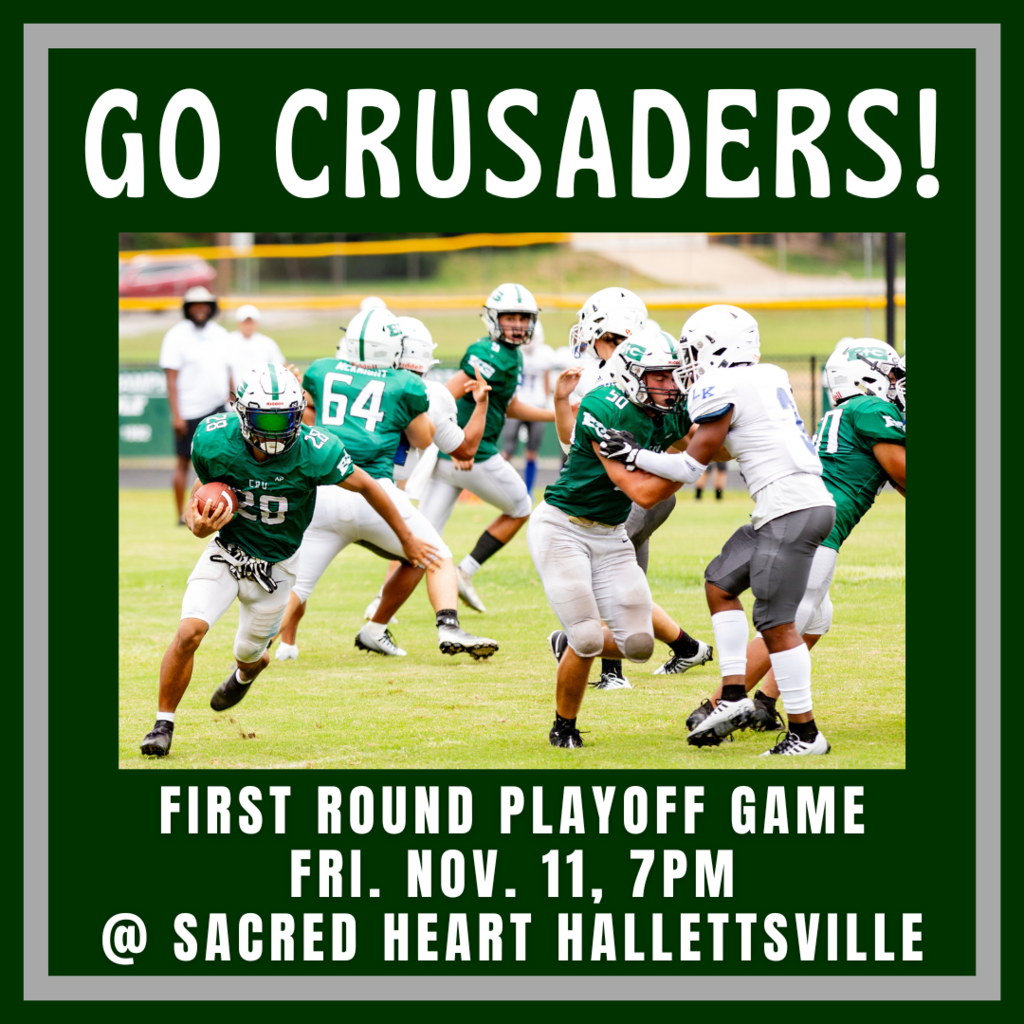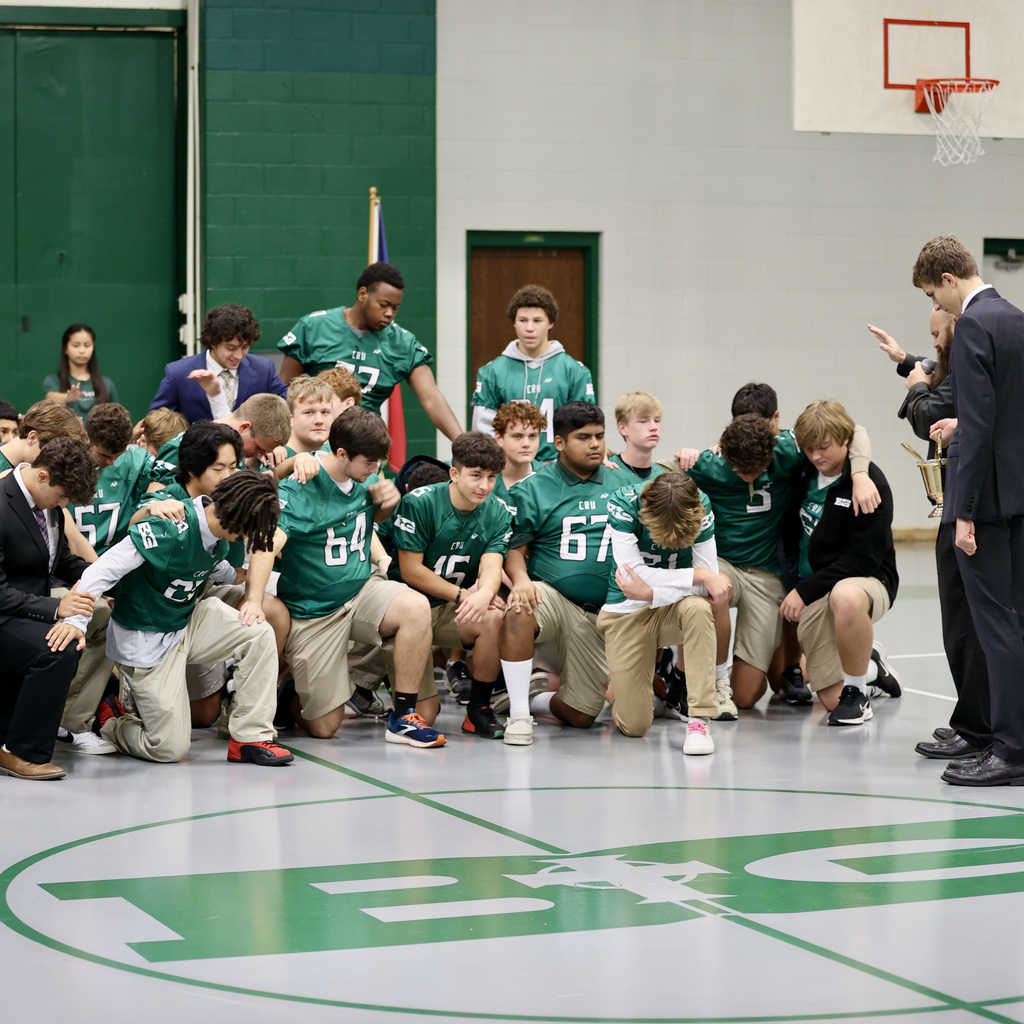 Each year on November 11th, we celebrate Veterans Day to recognize and honor those who have served our country in the United States armed forces. There are many around us who have served in the armed forces, not just answering the Nation's call in times of crisis, but also serving as a deterrent in times of peace. We must never forget their service or sacrifice. Remember to welcome our service members home, thank them for their service when you see them in our community, and extend the hand of friendship to their families during their long periods of deployment. And always remember those who paid the ultimate price for the freedom we have the privilege of enjoying each and every day. God Bless Our Veterans.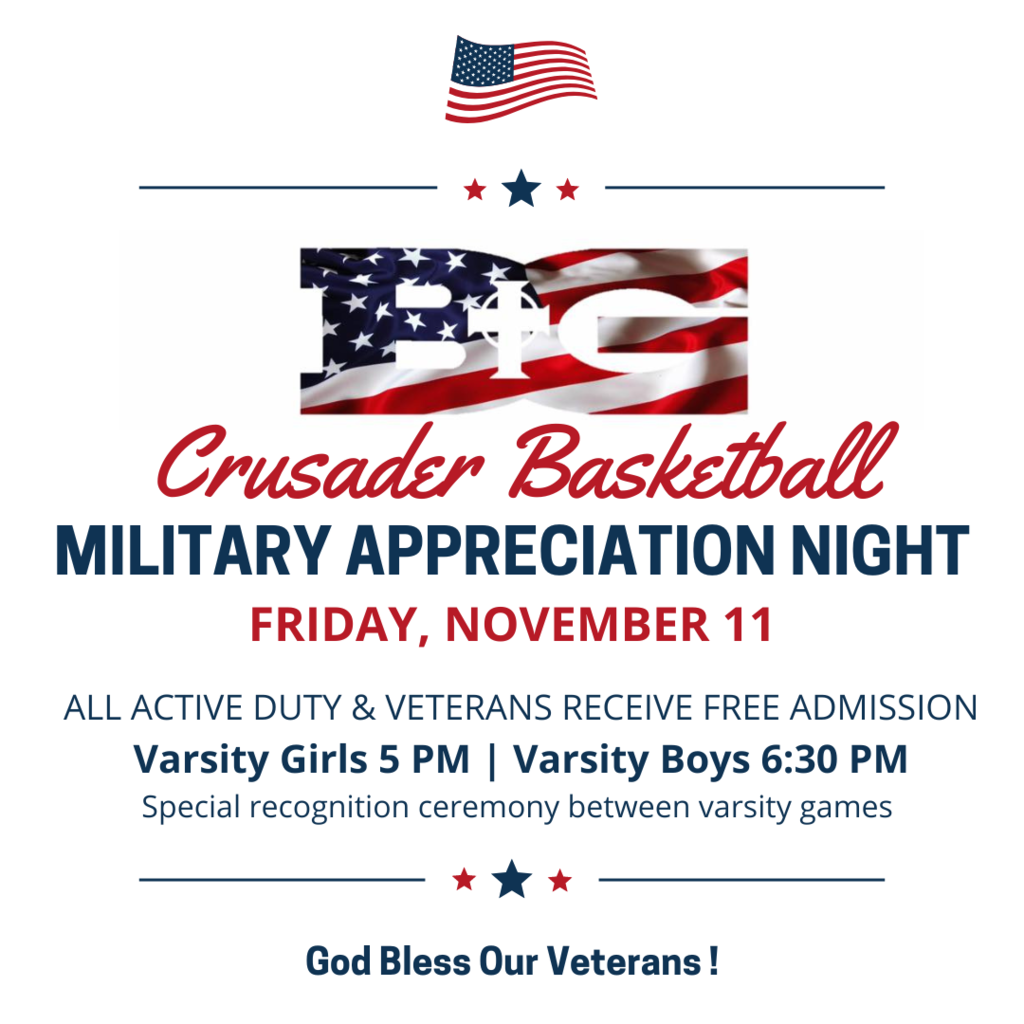 Crusader basketball season is here! Join us for the BG season openers TONIGHT at home beginning at 5:00PM in Haddad Gymnasium! #BGCru #basketballtime 🏀💚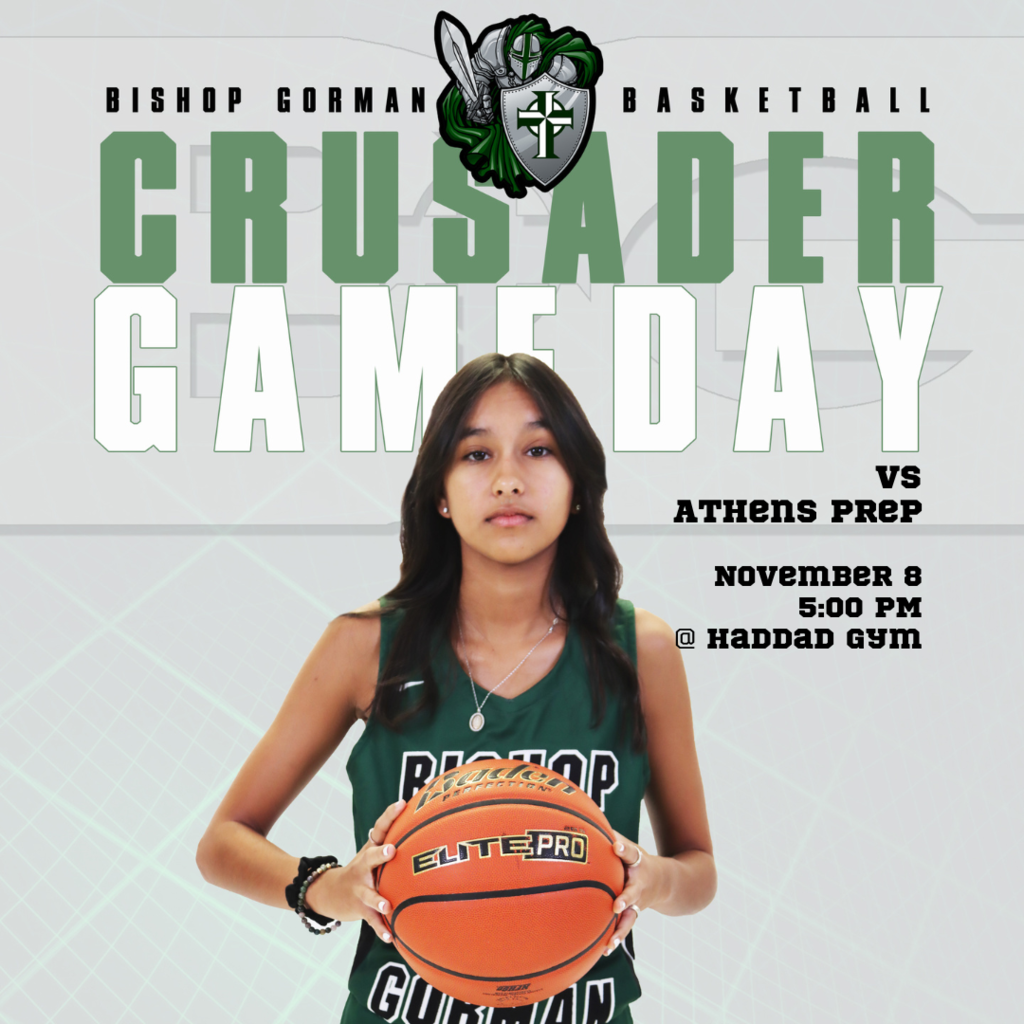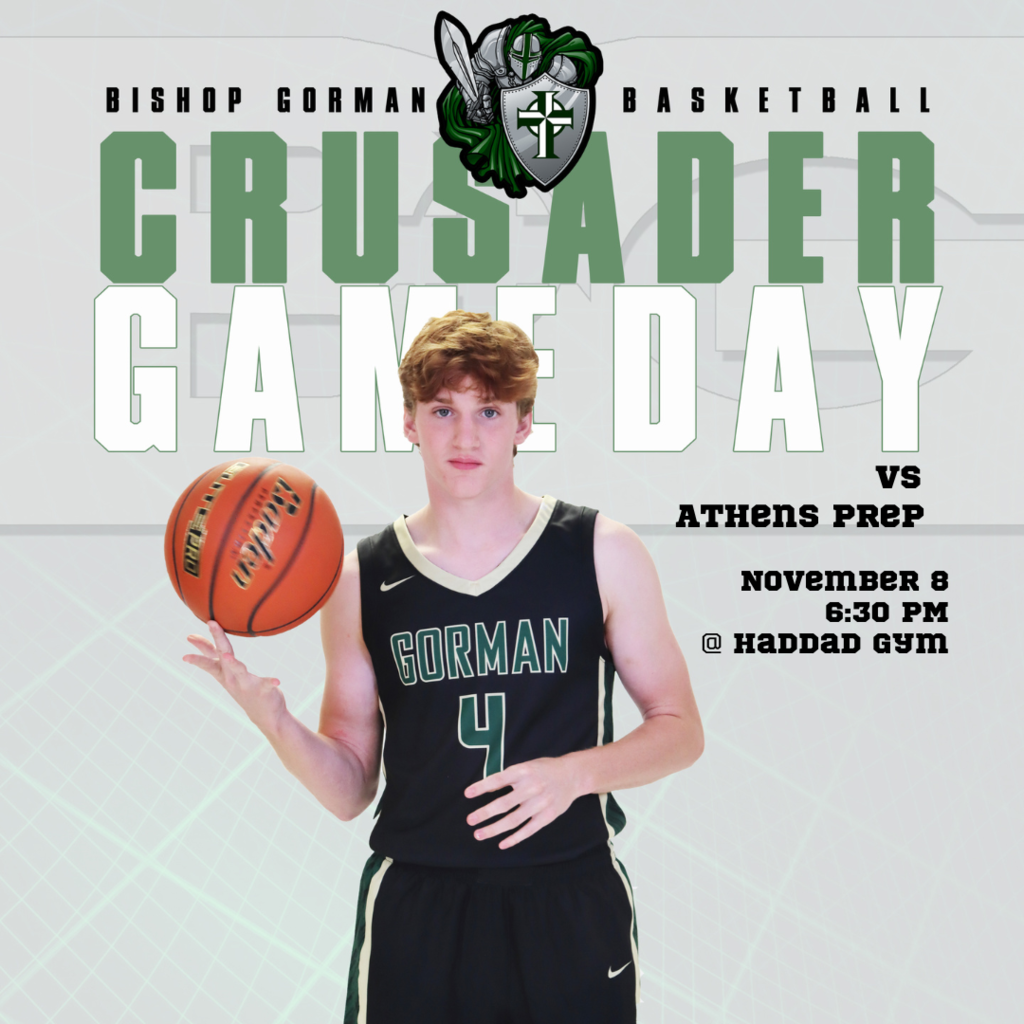 Join us for Military Appreciation Night at the Crusader basketball games on Veteran's Day!

Enjoy that extra hour of sleep, Crusaders!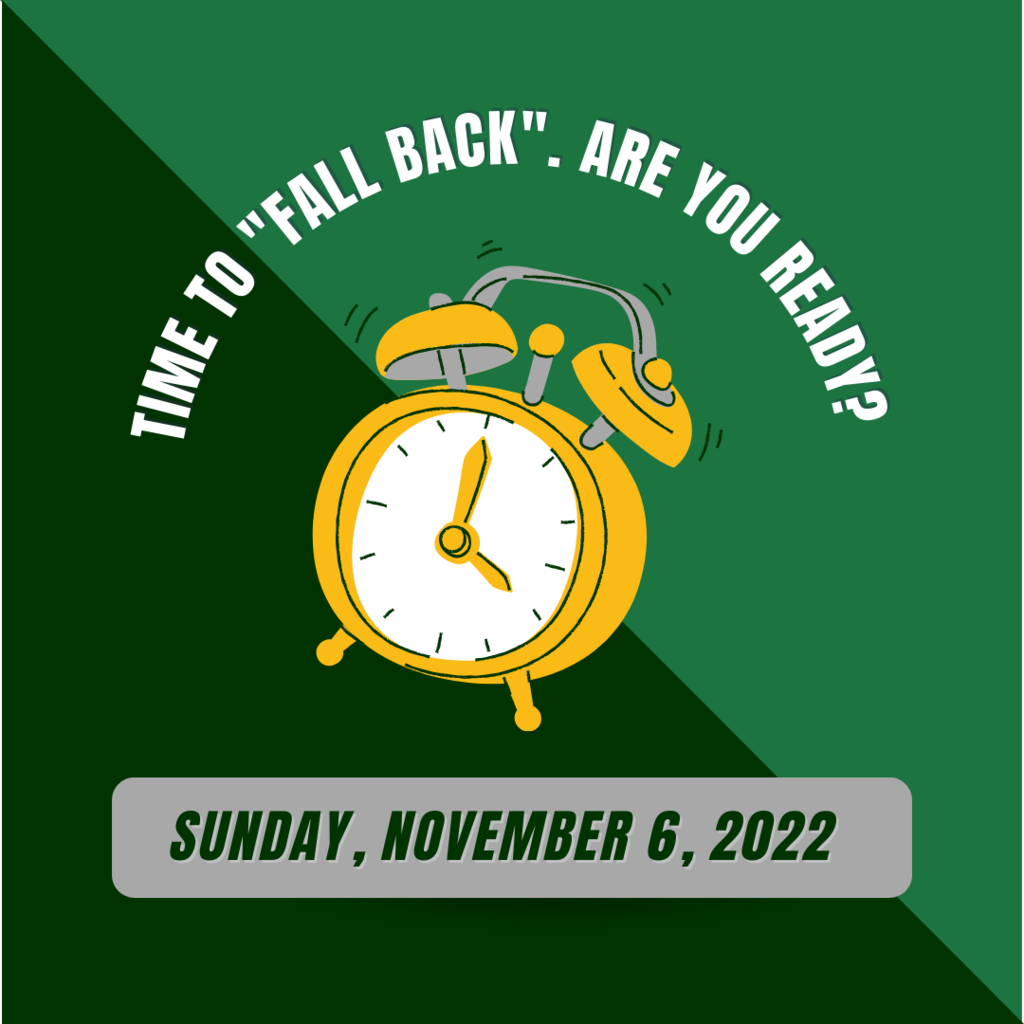 Join us for a FREE screening of "unPlanned" sponsored by 40 Days for Life on Sunday, November 6th, at 4PM in the Milam Joseph Community Center at Bishop Gorman.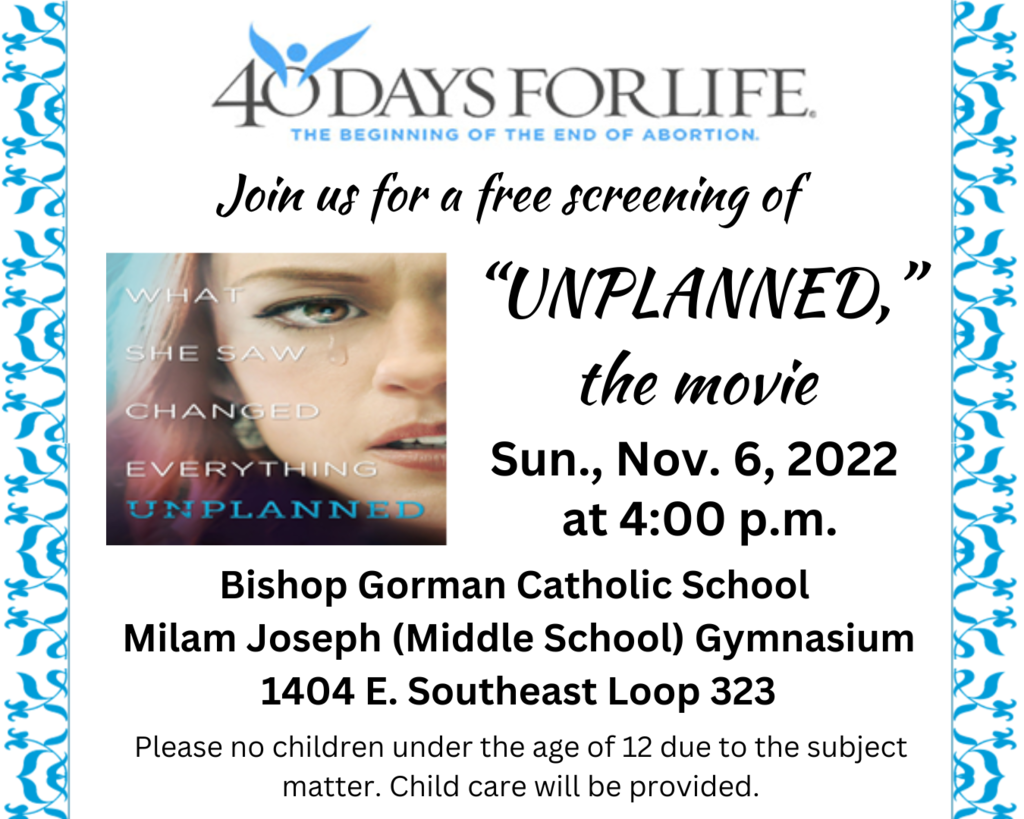 Join us THIS Friday for Coffee with the Principal, an ongoing opportunity on the first Friday of each month to hear about the exciting things going on at our school! #BGCru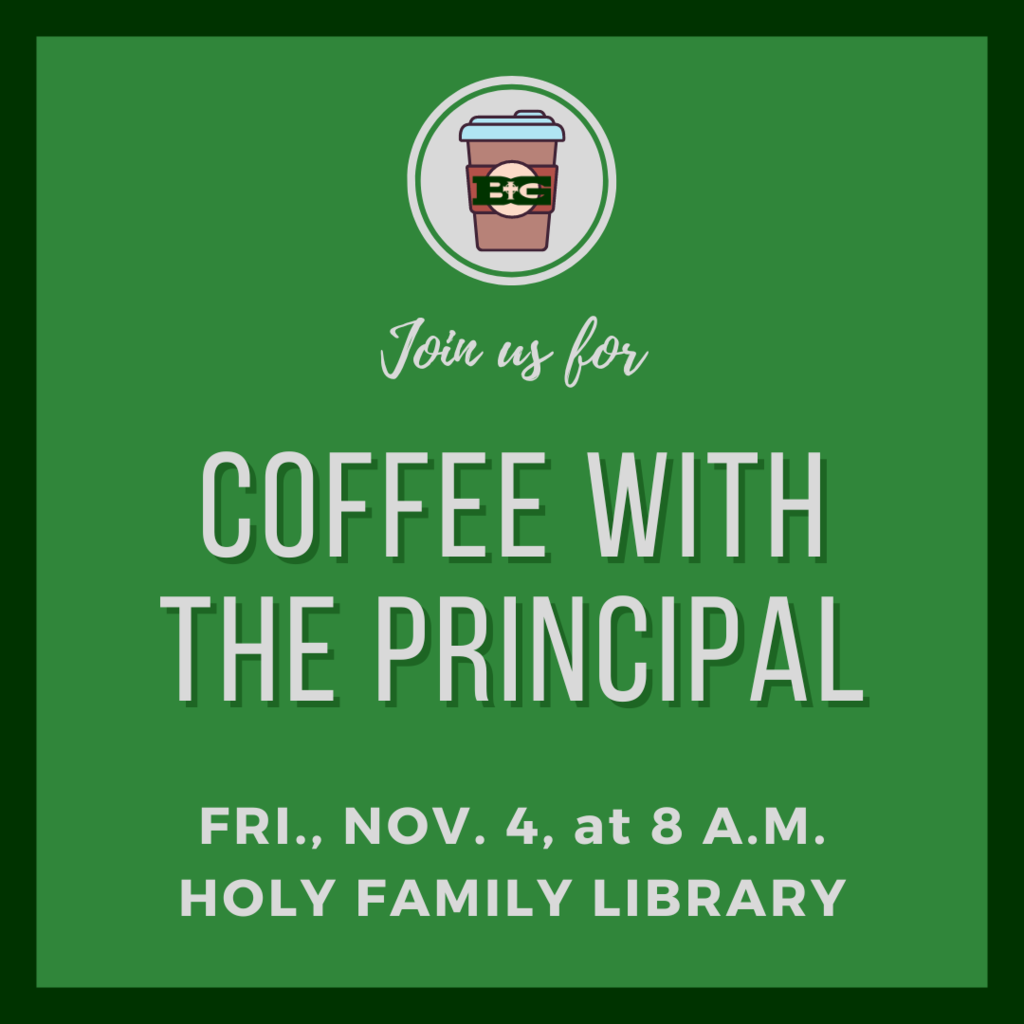 Today, November 2, is the feast of All Souls. This is a day the Church sets aside to remember her faithful departed. The Church teaches that praying for the dead is a spiritual Work of Mercy, thus these prayers are not only our privilege, but our duty. Today, we recall all of our deceased loved ones - family members and friends - and this morning we took a moment of silence to pray for them. We also remember those students of Bishop Thomas K. Gorman Catholic School who have died, students who have sat in the same desks and walked the same hallways as we do. We prayed for and remembered these students as their names were read aloud. We also prayed for and remembered all of the deceased faculty, staff, and administration from our school community as their names were read aloud. While these alumni and friends may be gone from this world, their light continues to shine brightly in our hearts and in the new life they now share with Christ. Eternal rest grant unto them, O Lord, and let perpetual light shine upon them. May their souls and the souls of all the faithful departed rest in peace. Amen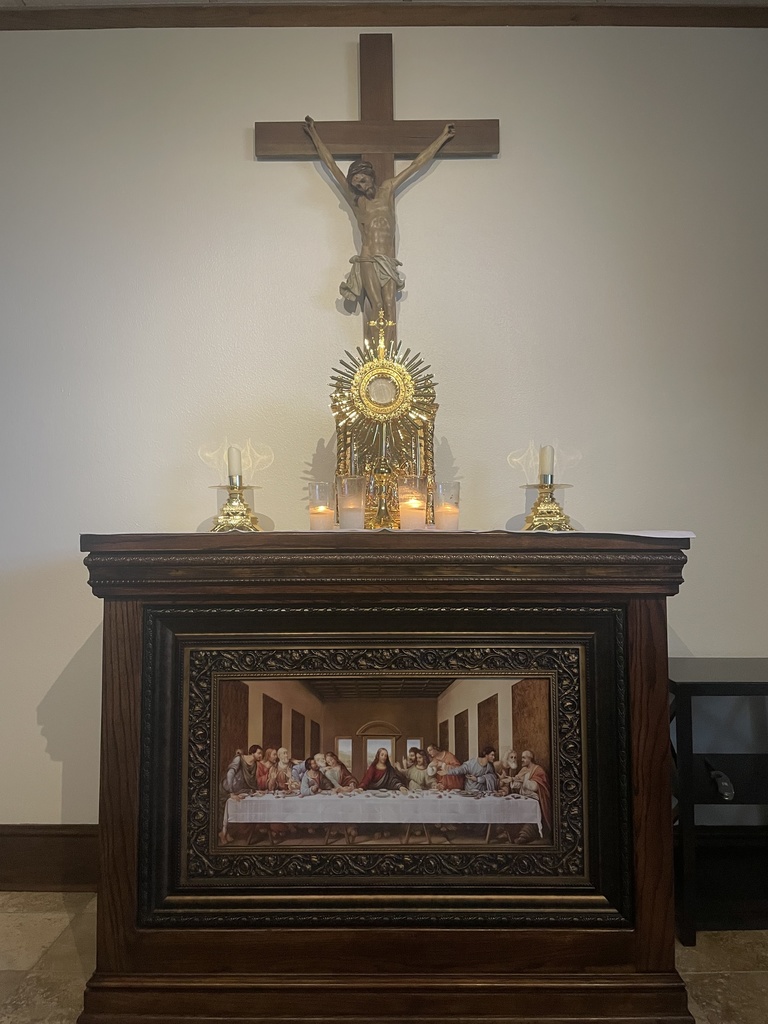 CONGRATULATIONS to the BG boys cross country team who capped off a stellar season by finishing in 2ND PLACE as a team at the TAPPS 3A State Championship! The Crusaders were led by senior Isaac Natera, the current school record holder for the 5K, who finished 11th overall. He was followed by Preston Watson (20th), Thomas Brown (21st), William Meads (22nd), Beau Bender (28th), Carter Frans (30th), and Will Vogler (32nd). CONGRATULATIONS also to the varsity girls cross country team who had a strong showing as well, finishing in 4TH PLACE as a team led by junior Catherine McKnight, who finished 9th overall, followed by Rebecca Berry (12th), Zoey Broaddus (13th), Alexa Remigio (52nd), and Maya Ranido (53rd). Catherine also earned 1st Team All State recognition, and Catherine, Rebecca, and Zoey earned Academic All State recognition. We are proud of all of our dedicated runners! #BGCru 🏆💚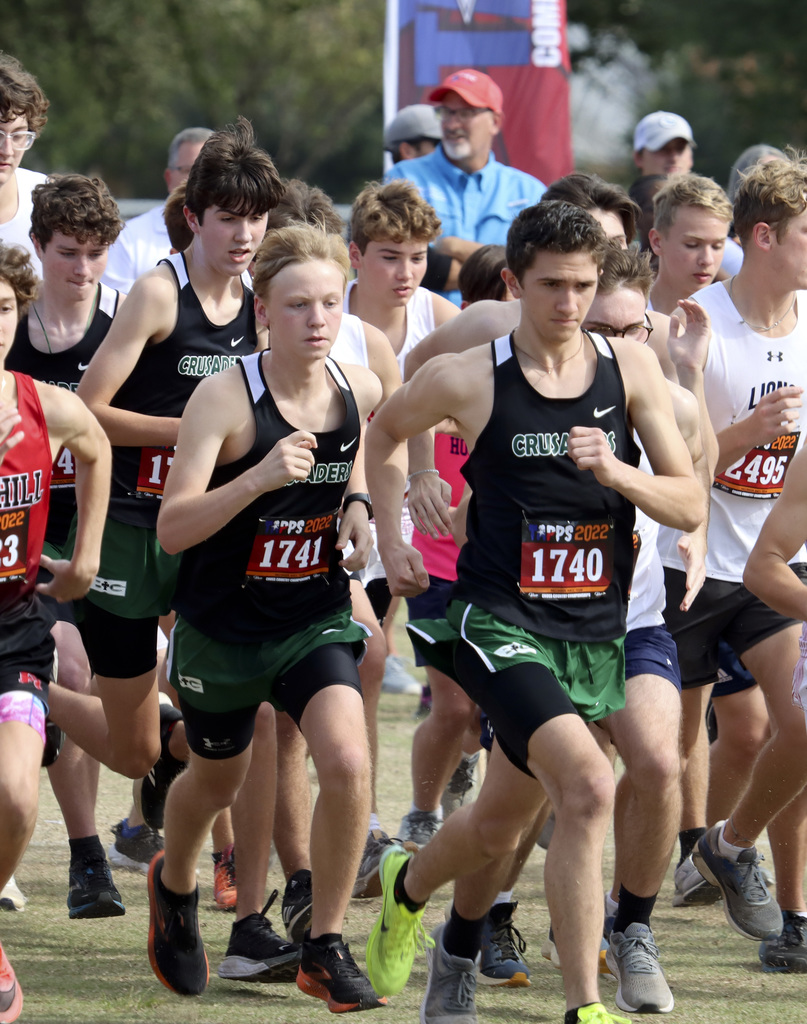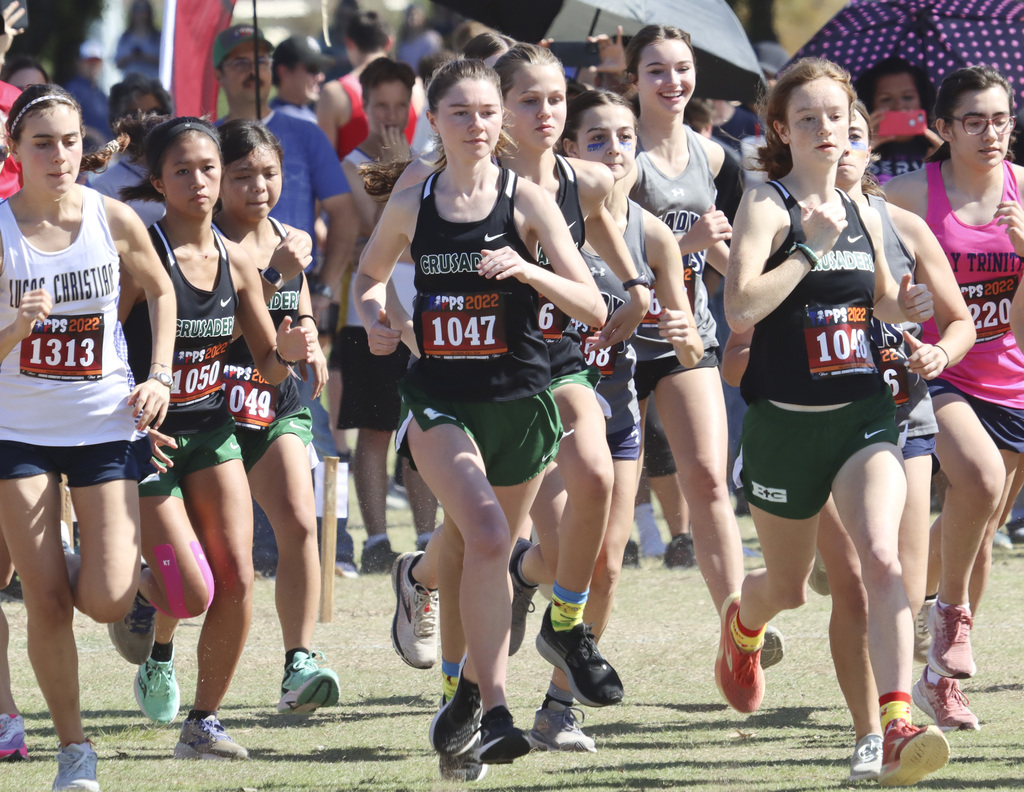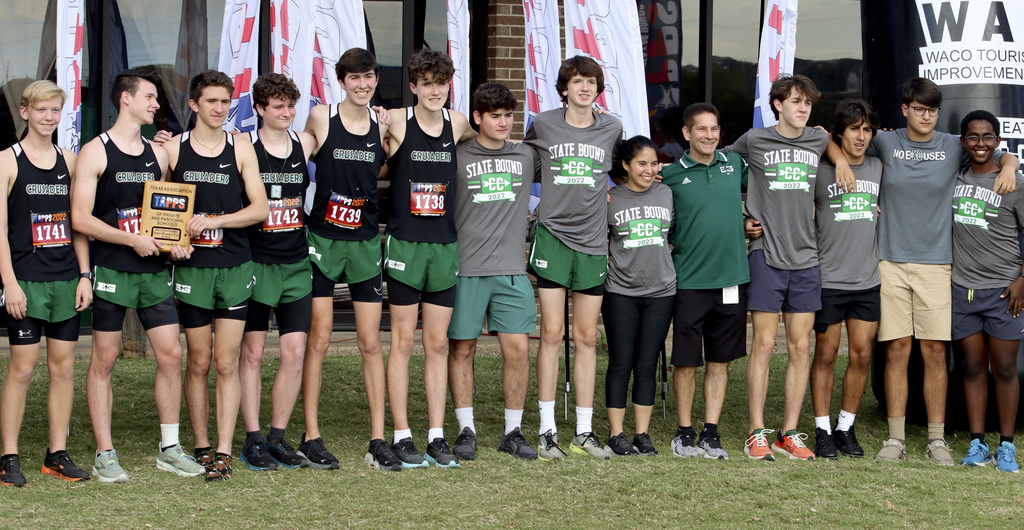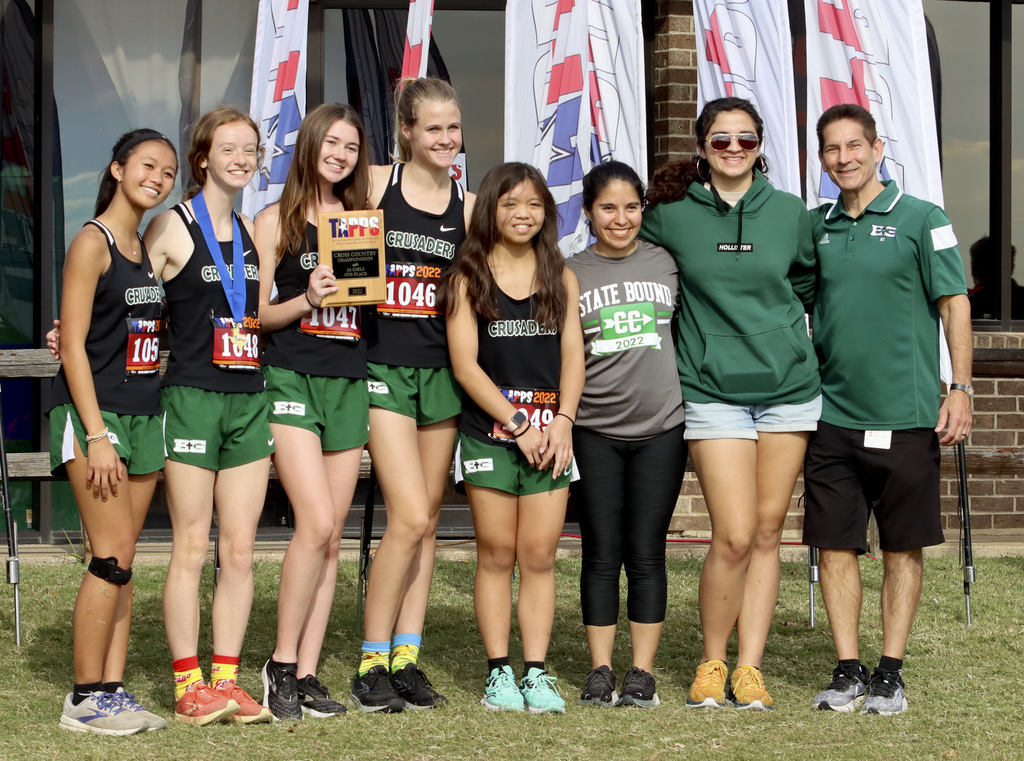 We hope to see lots of Crusaders at the encore screening tomorrow at Grand Slam!

GOOD LUCK to our Crusader Cross Country teams today as they compete in the state championships in Waco! GO CRU! #BGCru #TAPPScrosscountry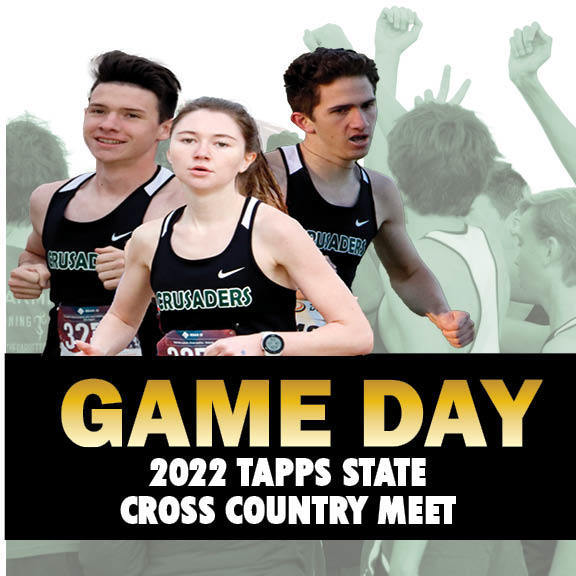 Individuals with exceptional abilities and their families are invited to join us for Open Gym next Saturday!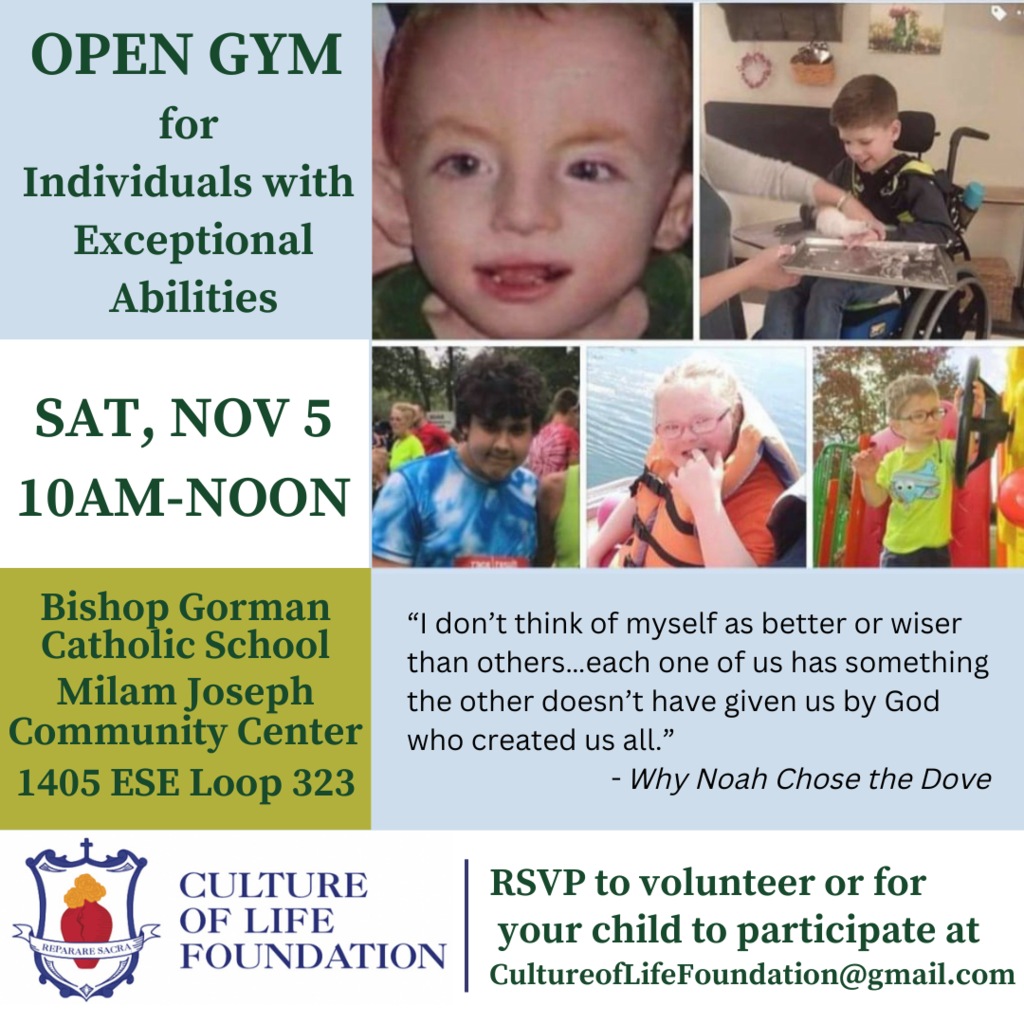 Thank you to the BG high school student council for putting on a fun Fall Festival - it was a beautiful day for cornhole, kickball, and bobbing for apples! Shout out to our awesome PTO for providing breakfast burritos, cider, hot chocolate, and a fun photo backdrop for all to enjoy!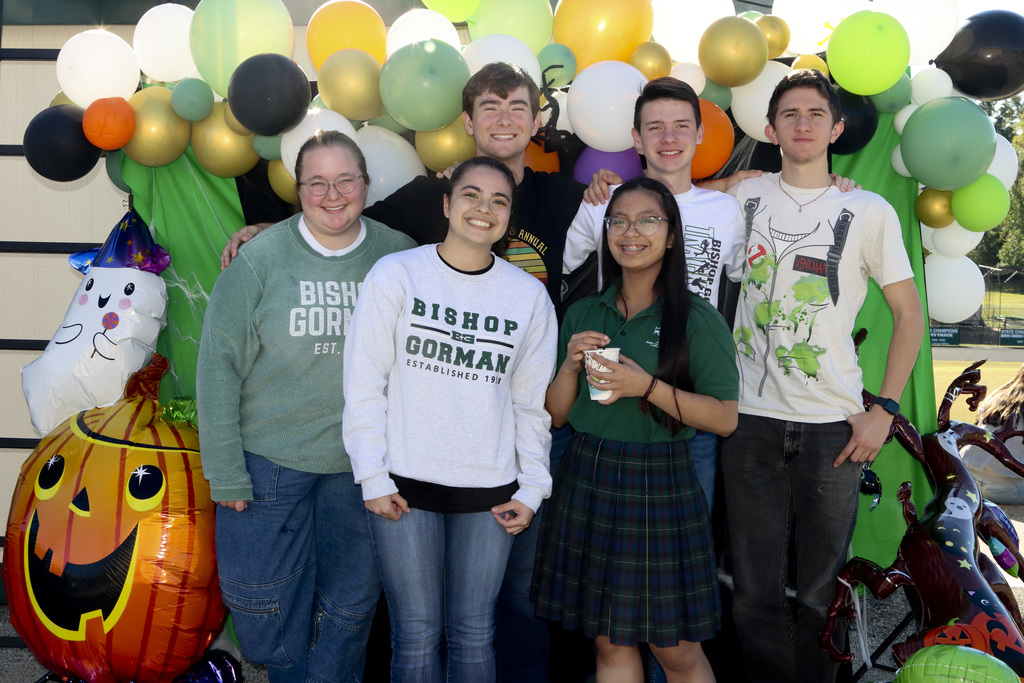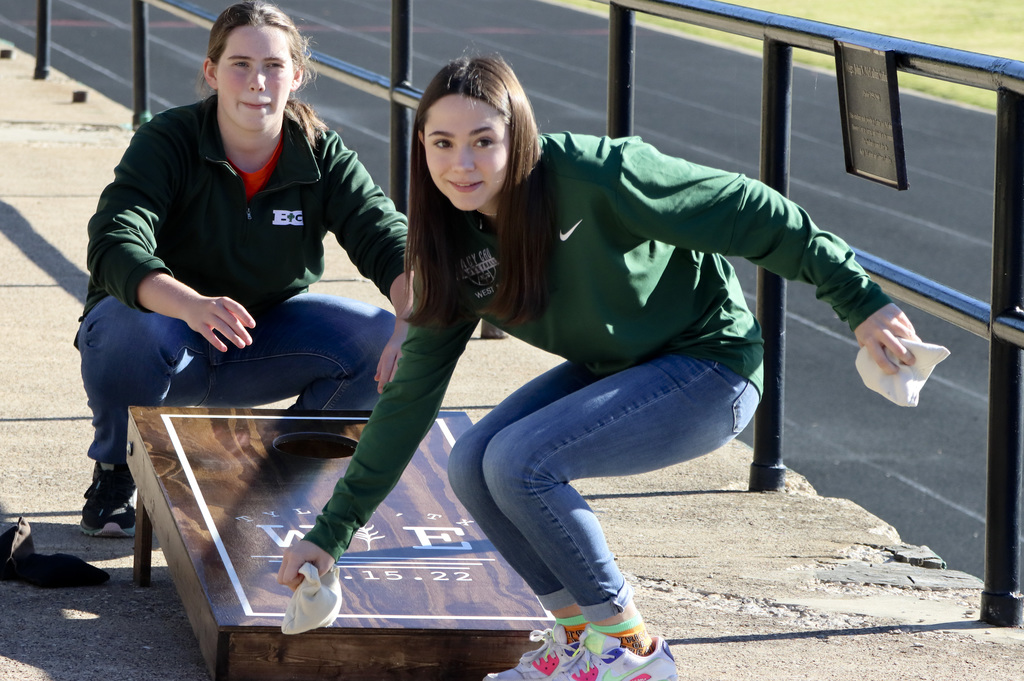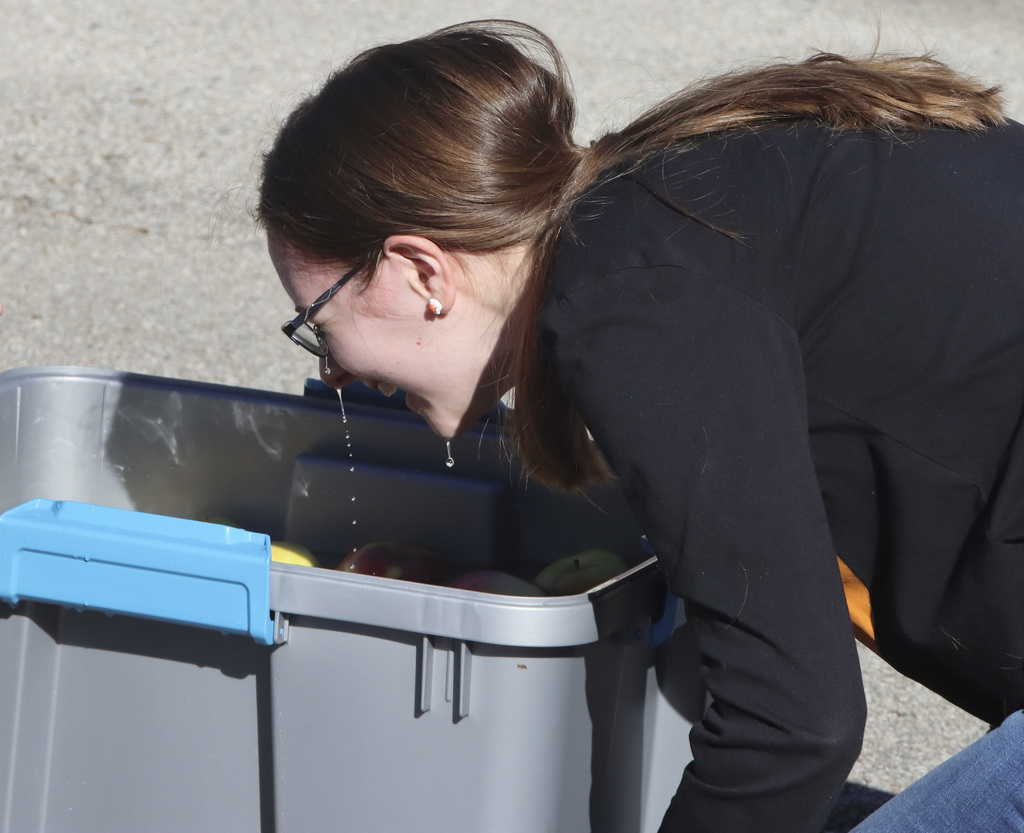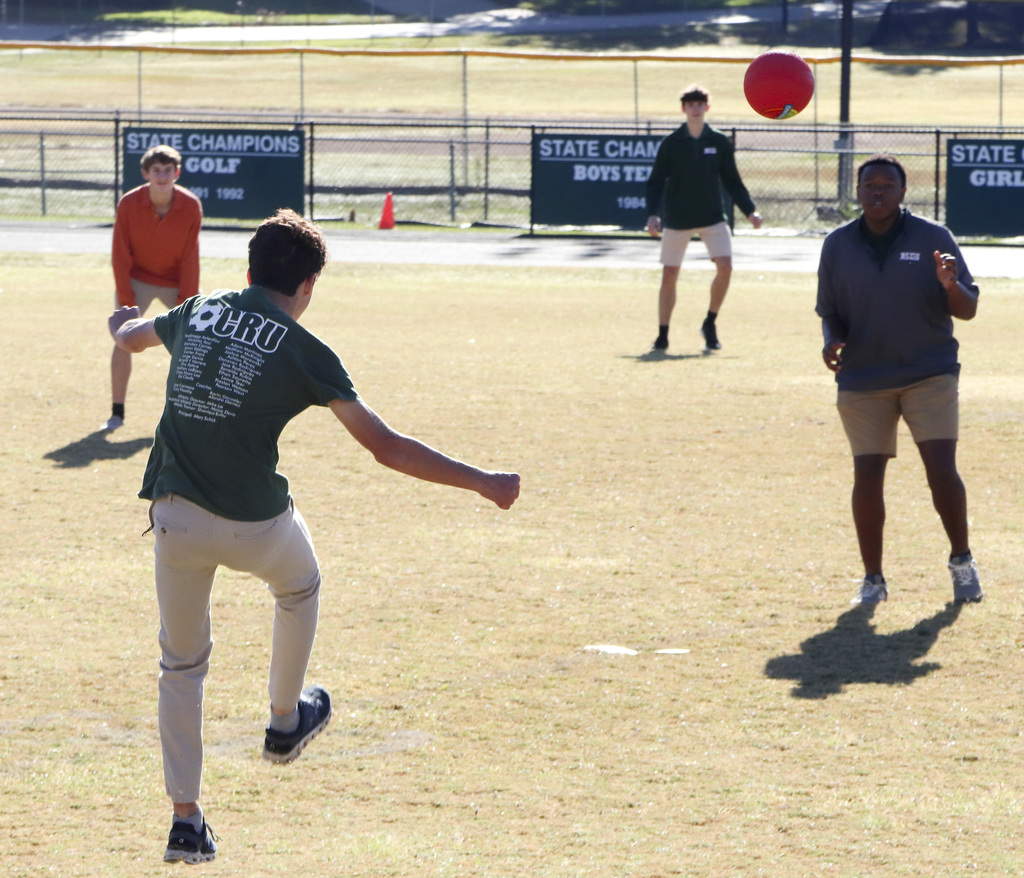 GOOD LUCK to our talented drama students who will hit the stage on Saturday morning to perform "The Butterfly" by Bijan Mofid in the TAPPS One Act Play competition! As part of the competition, the cast and crew have seven minutes to set up, 40 minutes to perform the play, and seven minutes to break down their set. Last night they showcased their talents for friends and family at BG with a fantastic dress rehearsal. #breakaleg #BGCru 🎭💚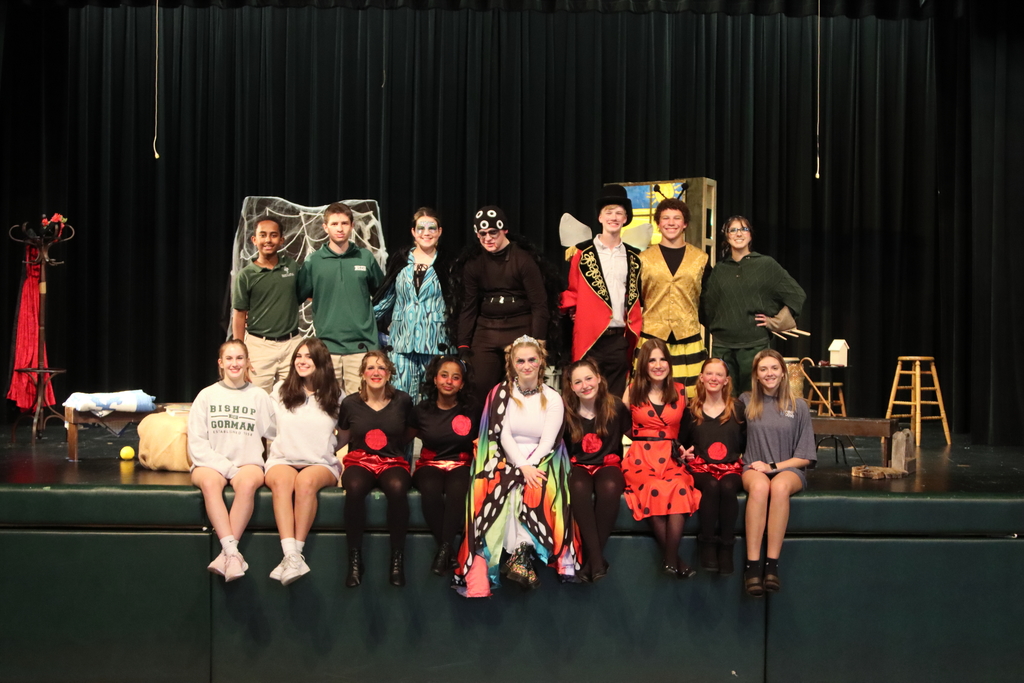 Thank you to Mrs. Rhonda Reuter, one of the founders of Achieving Dreams and aunt of Nick Reuter ('20) and Peyton Wells ('28), and Laura Mattheis, Executive Director of Achieving Dreams, for their presentation to our students yesterday. We are honored to raise money for Achieving Dreams, a unique special needs adult day habilitation and pre-vocational services program in East Texas, through our Outerwear and No-Shave November fundraiser! #BGCru #mercyinmotion💚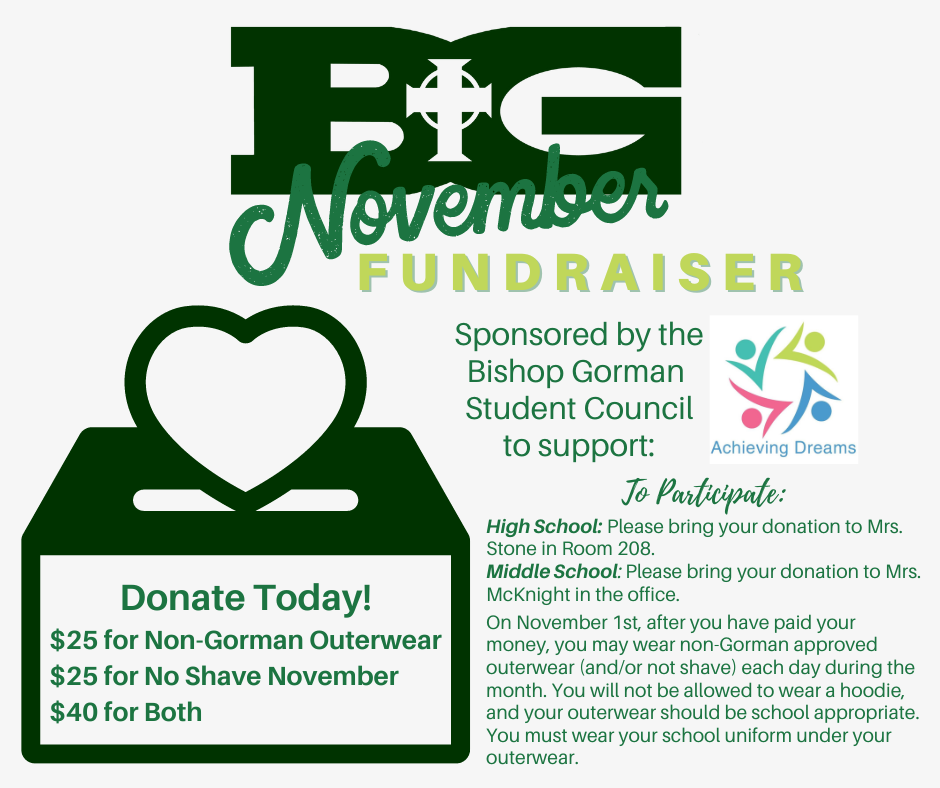 Dine in or take out ALL DAY today at Chuy's to support Bishop Gorman!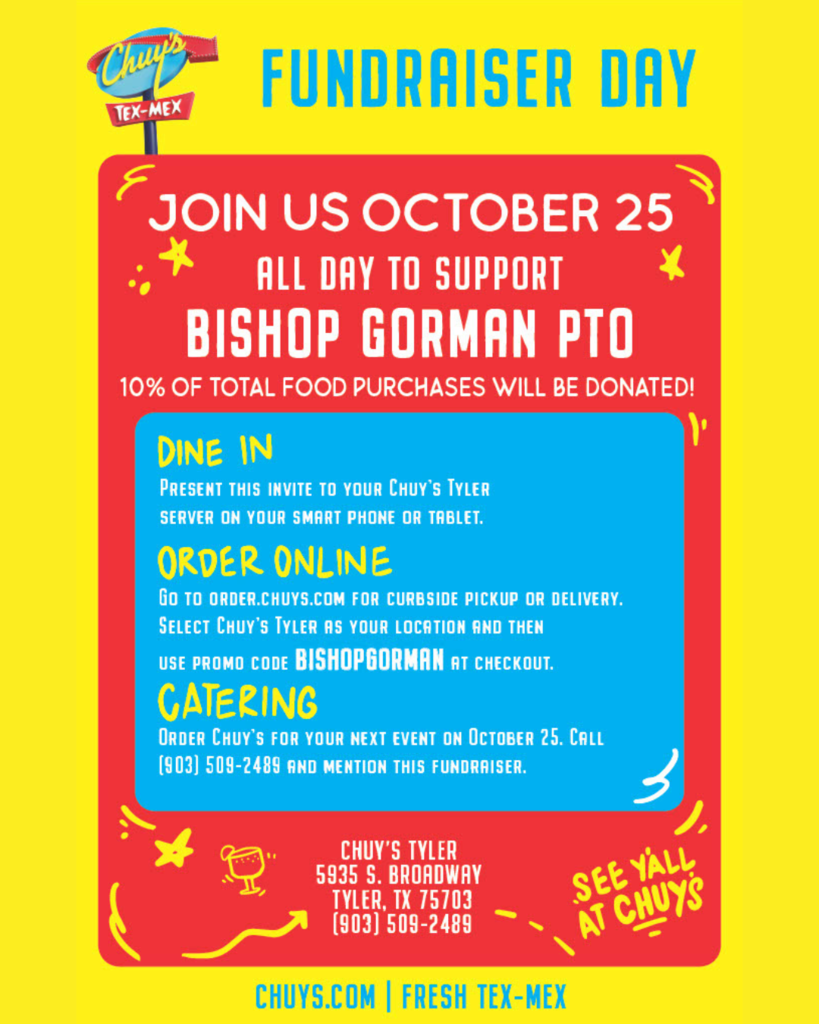 Congratulations to the Crusader Cross Country teams who took home some hardware from the NTX Small School Championships on Saturday - the boys won the championship, and the girls placed 2nd! We are expecting great things from these teams at next week's TAPPS State Championship!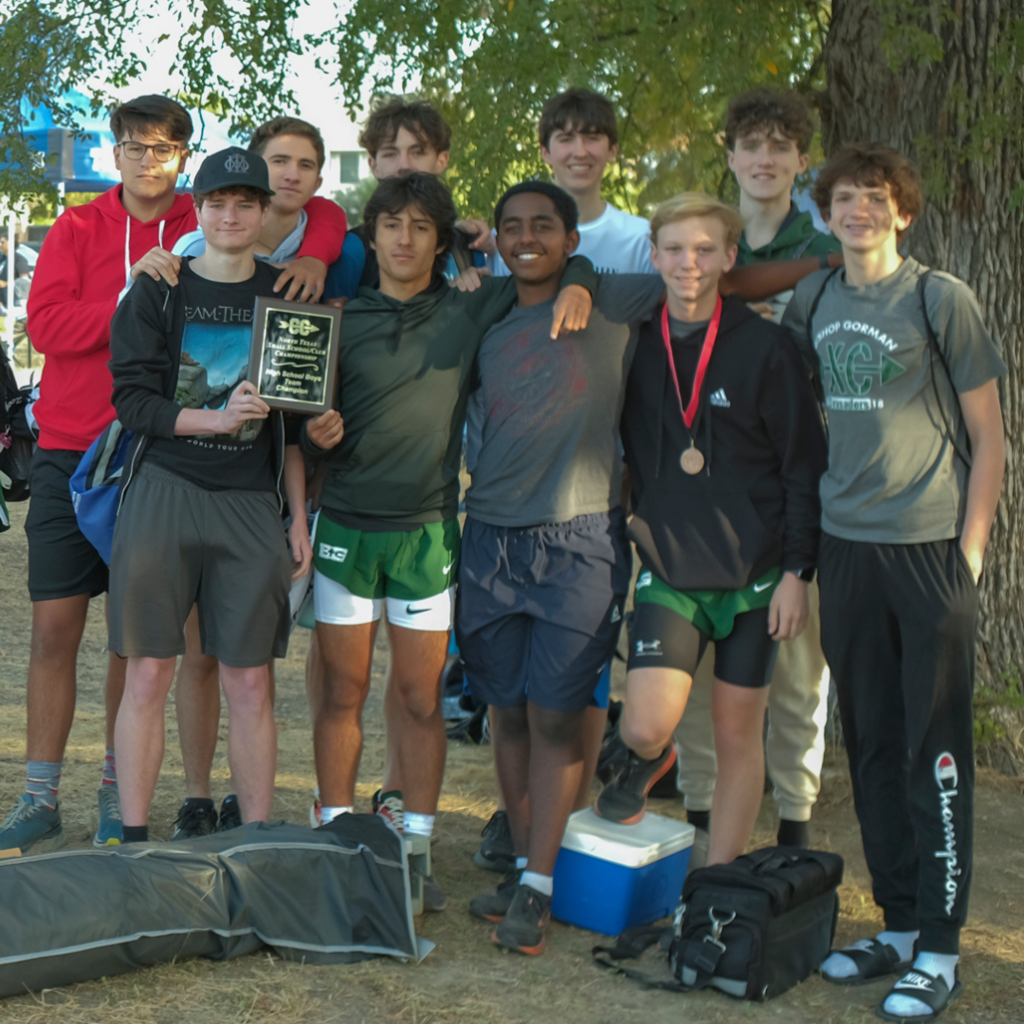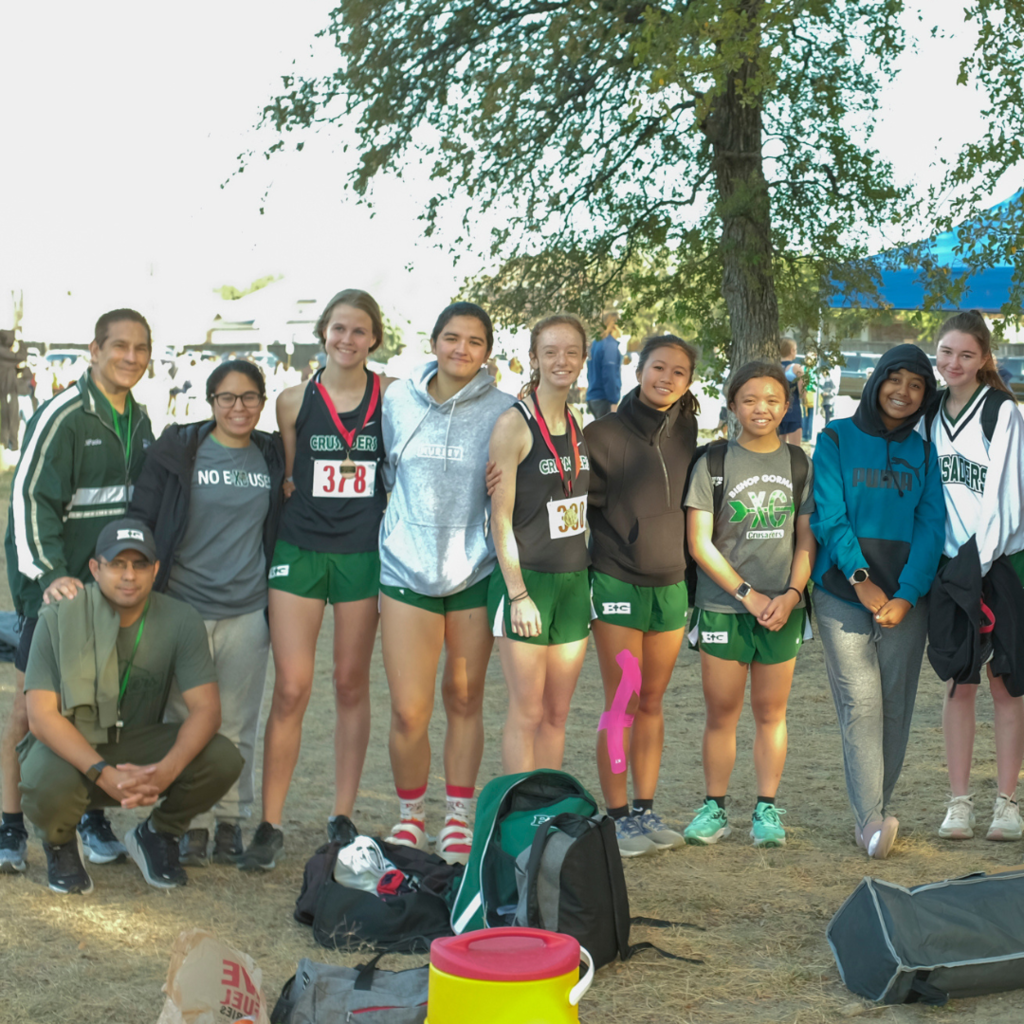 Join us TONIGHT for Volleyball Senior Night! The senior recognition ceremony will be held between the 5:00PM JV and 6:00PM Varsity games vs. Lucas Christian in Haddad Gymnasium. GO CRU! #BGCru #classof2023🏐💚