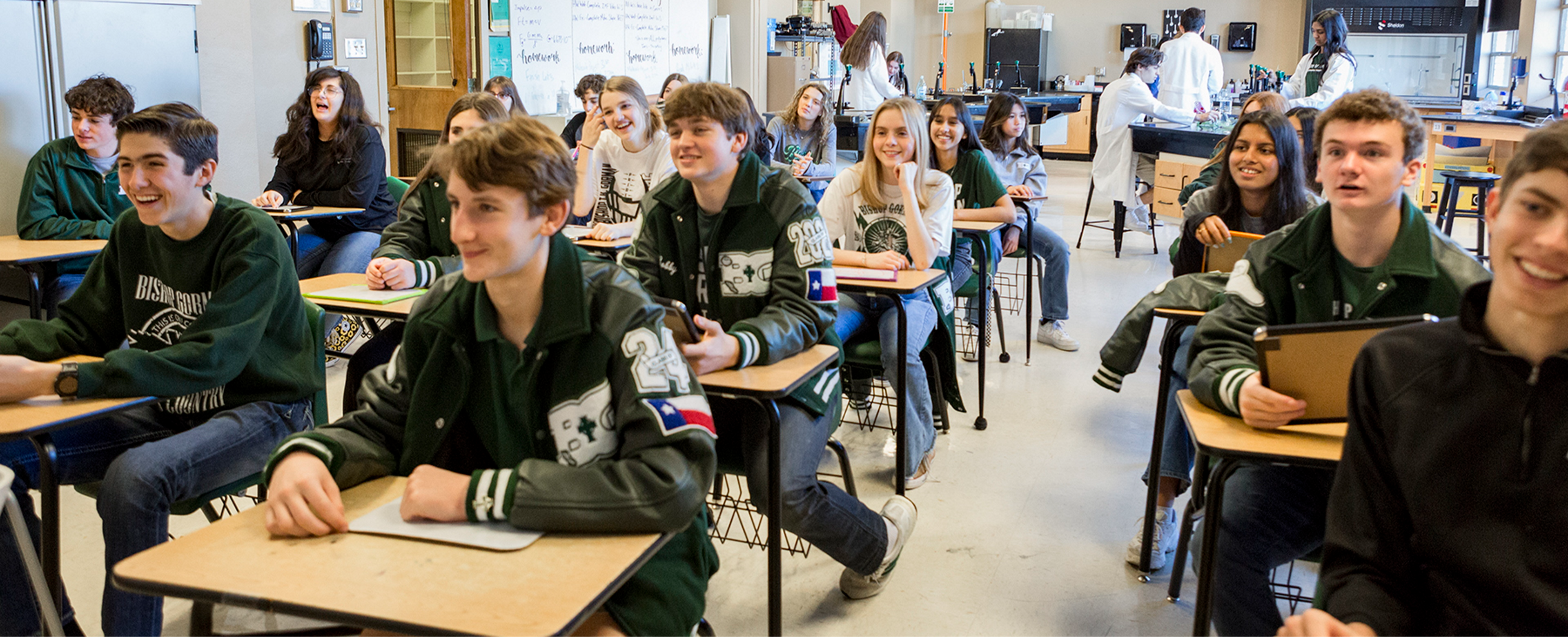 Bishop Gorman's rigorous liberal arts curriculum prepares students for success at the collegiate level and beyond with its attention to primary source texts and the cultivation of critical thinking skills.
An innovative mentoring program is built into high school courses and anchored by the English and Theology departments. Freshman and Sophomores study together to provide support for those entering high school, while Juniors take English classes alongside Seniors to prepare them for the demands of the college application process that begins the summer before Senior year. In addition, a rich diverse arts program allows students to cultivate talents in orchestra, photography, visual arts, cinematography, choir, or drama. Various Texas Association of Private and Parochial Schools (TAPPS) academic competitions extend studies beyond the classroom.
Bishop Gorman also offers numerous Advanced Placement and Dual Credit courses, which continue to produce award-winning students in a school focused on academic excellence.
At the high school level, first in the ninth and tenth grade, combined for mentoring opportunities throughout a rigorous study of full-length primary texts including Elie Wiesel's Night, Homer's The Odyssey, Harper Lee's To Kill a Mockingbird, Shakespeare's Romeo and Juliet, Golding's The Lord of the Flies and other classic texts, short research essays, a vibrant pre-AP curriculum, continued vocabulary and grammar review tailored to each student through the use of the No Red Ink program, English continues to provide the foundation upon which a Bishop Gorman Catholic education is built. Technology supplements but does not replace the contemplation needed for the study of literature.
At the junior and senior level, again combined to prepare juniors for the rigor of college applications during their senior year, students at the Honors, Advanced Placement, and Dual Credit levels focus on literary masterworks including Homer's Iliad, Dante's Divine Comedy, Dostoevsky's Crime and Punishment, Shakespeare's Macbeth, Twain's Adventures of Huckleberry Finn, Hurston's Their Eyes Were Watching God, Salinger's Catcher in the Rye, Faulkner's The Sound and the Fury, O'Connor's The Violent Bear It Away, Morrison's Song of Solomon, and Vonnegut's Cat's Cradle in collegiate seminar settings. Dual Credit seniors are presumed to possess the writing skills needed to obtain college credit, while Advanced Placement and Honors students are called upon to make interdisciplinary connections and understand that the proper study of literature is as a mode of knowledge that leads to Truth.
In addition to reading, writing, thinking, and discussing the philosophical, historical, cultural, and literary aspects of the novels, plays, and epics, students make presentations and record podcasts to communicate their understanding or preoccupations with those works. The English department encourages cross-disciplinary uses of creativity to supplement the texts, where students have made short films, knitted dolls of literary characters, written songs, or poetry about works, and painted and drawn illustrative pieces. Using a careful system of building expectations and vertical alignment of curriculum, the English department awakens student curiosity through subject-, learner-, and problem-centered modes of discussion and discovery.
As teachers and artists, we mentor our students, encouraging them to develop their God-given talents, to practice self-discipline, build their artistic excellence, to kindle in them a desire for mastery within their creative self-expression.
We are committed to using the arts to produce wonderful students, rather than using students to make wonderful art. Bishop Gorman students have many opportunities to participate in fine arts programs and have won numerous accolades and awards.
Spanish
In High School Spanish, the students will use effective strategies for Spanish language learning by encouraging the use of language and cultural understanding for self-directed purposes. This course encourages interpersonal communication through expanded speaking and writing opportunities over familiar topics, interpretive communication through evaluation of materials that are read and heard, and presentational communication. The ACTFL World-Readiness Standards are the road map for the classes. All classes focus on the building of vocabulary, grammar, and structure of the language and Hispanic culture.
AP Spanish 4, Spanish Language and Culture, focuses on preparation to take the AP Spanish Language and Culture test in May. All classroom activities and homework are designed to develop student knowledge of the six themes that the AP Test uses.

Spanish 5, Spanish Literature and Culture, focuses on preparation to take the AP Spanish Literature and Culture test in May. All classroom activities and homework are designed to develop student knowledge of the thirty-eight works that are compiled into six themes that the AP Test uses.
Latin

High School Latin studies Latin as a Classical Language. Students will learn to communicate while gaining knowledge and understanding of Greco-Roman Culture. Reading is the first standard and the key to communicating with the ancient world. Students will be able to read aloud correctly pronouncing the words. They will translate from Latin into English reinforcing and furthering their knowledge of other disciplines through their study of this classical language. Students will compare the cultures of the ancient Roman and Greek worlds with the cultures in today's modern world. Students will relate to the inauguration of the Church in its beginnings within the Ancient Roman world.

Senior American Government examines the fundamentals, structures, and practices of the United States government, with a heavy emphasis major issues today. Senior Economics surveys the fundamentals, principles, and issues of modern economies, with an emphasis on practical personal fiscal management.
The Physical Education course provides students with the opportunity to develop a moderate degree of competency and confidence in performing the skills necessary for team sports. Students are provided detailed instruction in the skills of training and conditioning particular to a variety of specific sports, including warm-up and cool-down techniques and techniques specific to building muscular strength and muscular endurance.
Psychology provides students with the opportunity to acquire 3 hours of college credit, while exploring the methods and principles of psychology.
Social Studies classes enable our students to understand history and society through the light of the gospel and encourage them to take an active role in the world in which they live. High School classes prepare students for the next level, while offering them opportunities to gain college credit. On level courses cover additional material to prepare students for the CLEP test. AP and Dual Credit classes offer students the chance to directly gain college credit.
Freshman Human Geography covers patterns that have shaped human understanding, use, and alteration of Earth's surface, from the Neolithic Age through 1450.

Sophomore Modern World History surveys global history since 1450, focusing on change and continuity in international interactions and social developments.

AP Modern World History is a challenging, college level course that focuses on the interaction between diverse human societies.

Junior U.S. History focuses on the development of the nation's history from its beginnings to the present, using a variety of sources to develop critical thinking, communication, and persuasive writing skills.

Dual Credit U.S. History provides the opportunity to acquire 6 hours of college level history while completing high school requirements.
St. Thomas Aquinas describes theology as the queen of the sciences (Cf. Summa Theologiae). It is precisely for this reason that man is meant to engage in this study with his whole self; for it is his whole self which is revealed to him therein. For Catholic theology, this means that man's intellect perceives, and his will commits to understanding (as best he may) the One, True, and Good as they are in their infinite Beauty.
The Theology program at Bishop Gorman seeks to unite faith and reason in our study—what Pope St. John Paul II called the "two wings on which the human spirit rises to the contemplation of truth." (Fides Et Ratio) This effort follows an intellectually rigorous curriculum whose standards are set by the United States Conference of Catholic Bishops and realized through the Bible, Catechism of the Catholic Church, various primary sources, and the Didache Series published by the Midwest Theological Forum (MTF).
Information about the curriculum (MTF) can be found here (https://www.theologicalforum.org/What_Is_Didache_Series)
Currently, our students follow the course outlined as follows:
9th: Sacred Scripture (Understanding Scriptures)

10th: Church History (The History of the Church)

11th: Moral Theology (Our Moral Life in Christ)

12th: Philosophy of Ethics (Fr. Fagothey, Austin. Right and Reason; Ethics in Theory and Practice Based on the Teachings of Aristotle and St. Thomas Aquinas)

12th: Apologetics (Kreeft, Peter J., and Ronald Tacelli. Handbook of Christian Apologetics. Monarch, 1995.)