The Bishop Gorman Lady Crusader softball team is taking the field against the Lubbock Christian Lady Eagles in the playoffs tonight! LET'S GOOOO #BGCRU! #TAPPSsoftball 🥎💚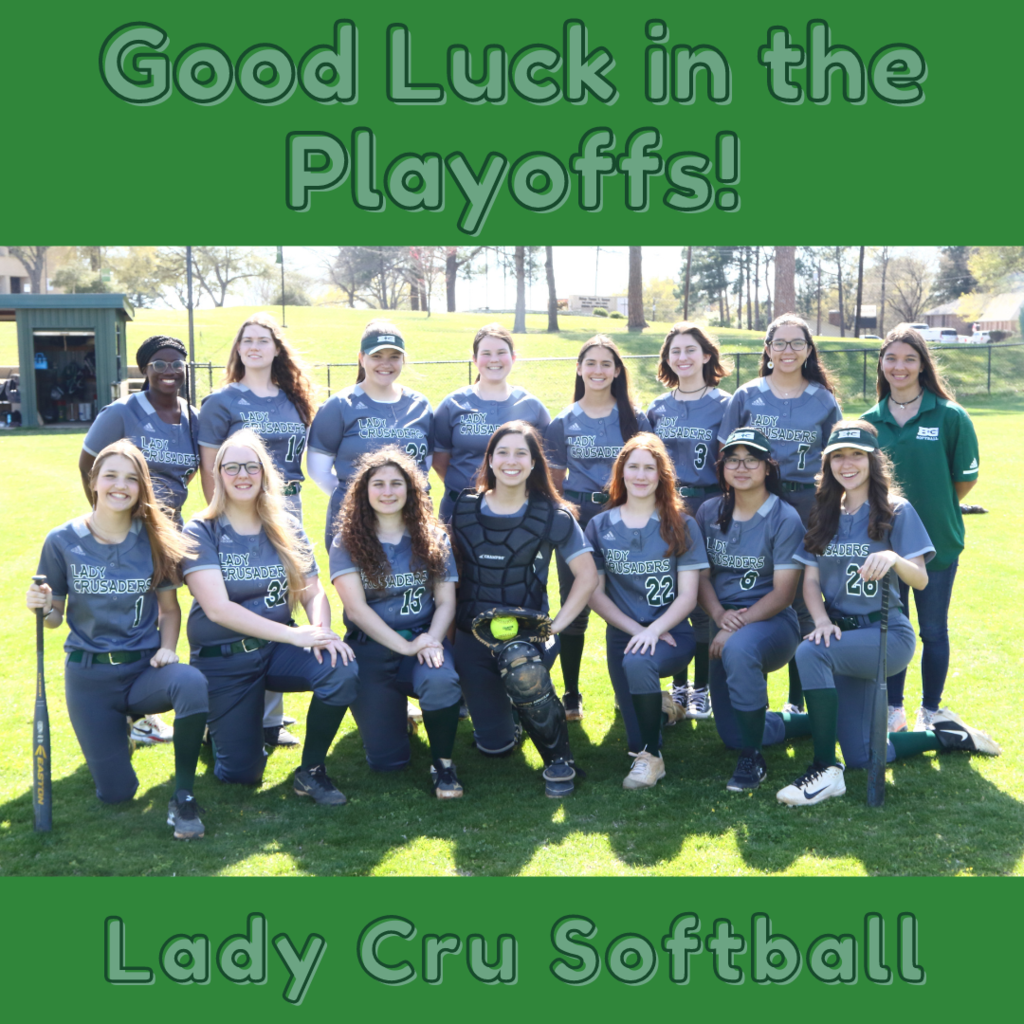 The BG high school drama class will perform "The Butterfly" by Bijan Mofid for the student body on Tuesday, May 10th, at 9:00 AM to 10:00 AM on the stage in the High School Gym. Parents and families are welcome to attend! If you cannot come to the school show, you are welcome to attend the dress rehearsal on Monday evening, May 9, at 6:30 p.m. #BGCru #breakaleg 🎭💚

Congratulations to the Bishop Gorman Middle School Orchestra for earning a first division rating from EVERY judge at the Pride of Texas Music Festival! Congratulations also to our Orchestra Director Mrs. Tina Beason who helps our students foster their God-given gifts and talents each and every day! #BGCru 🎻🏆💚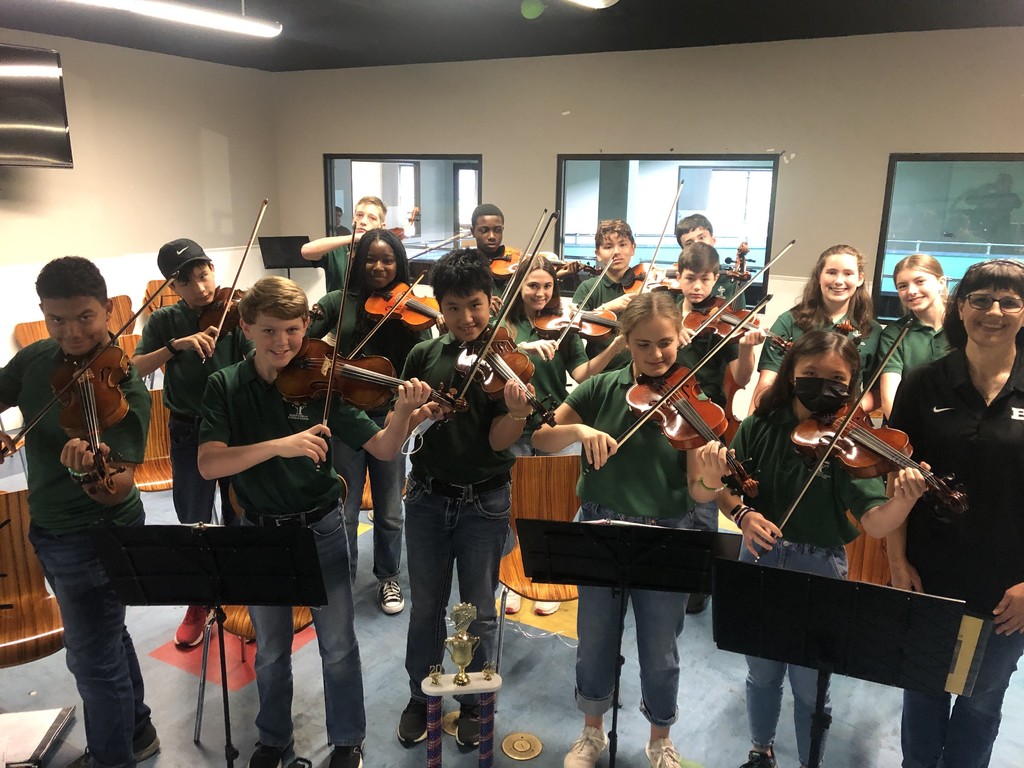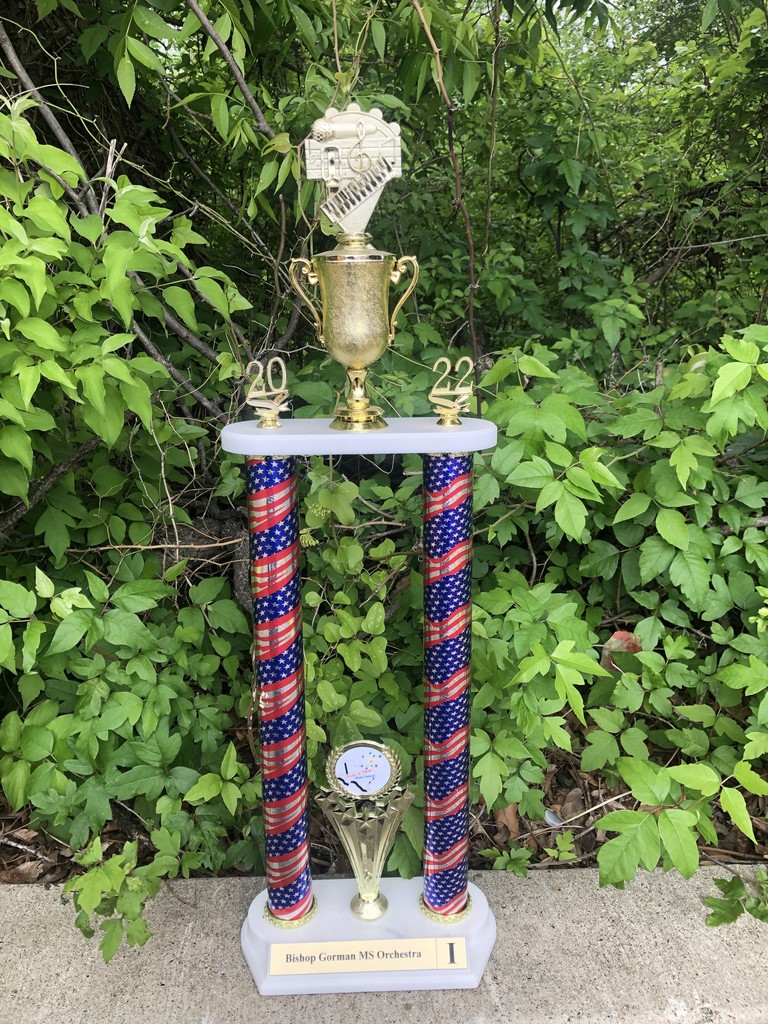 Tom Deal's loving work on the BG campus grounds shines through as everything comes into bloom. You can see it with newly elected Student Council Vice President Jorge Garcia and President Foster Morales, with other rising seniors continuing a class discussion outside, and around the statue of Mary to be crowned next Wednesday following the All School Mass and procession with Bishop Strickland. #BGCru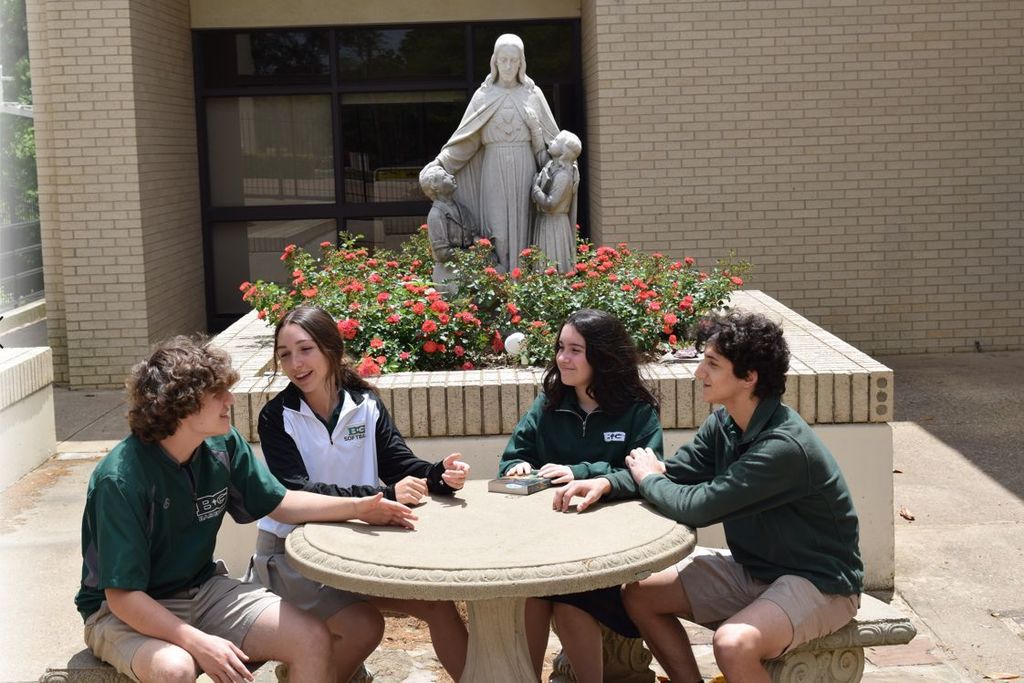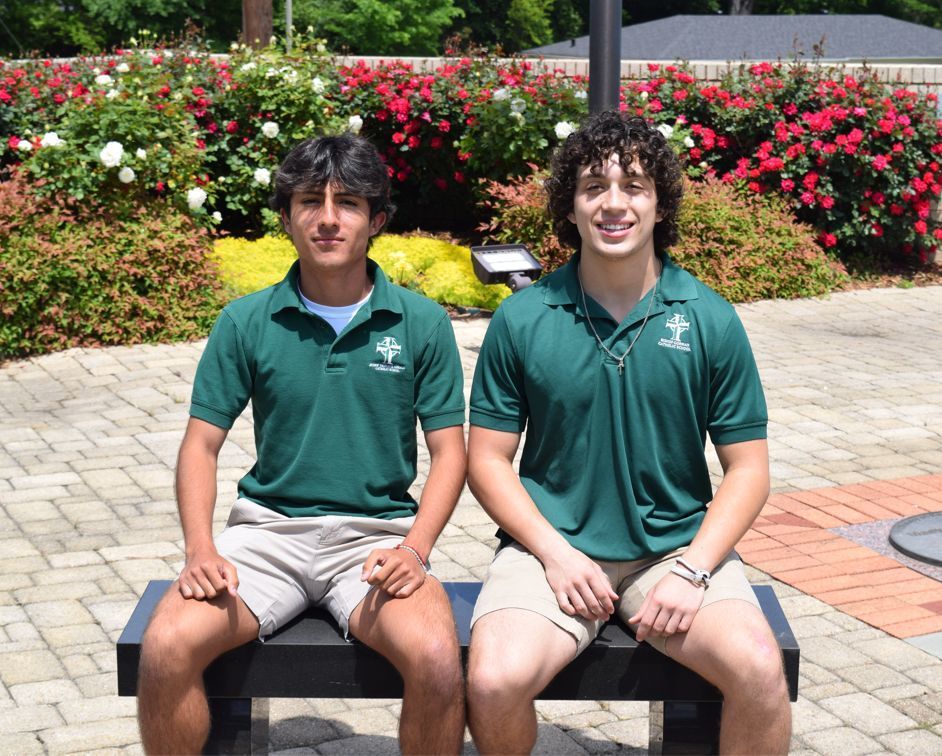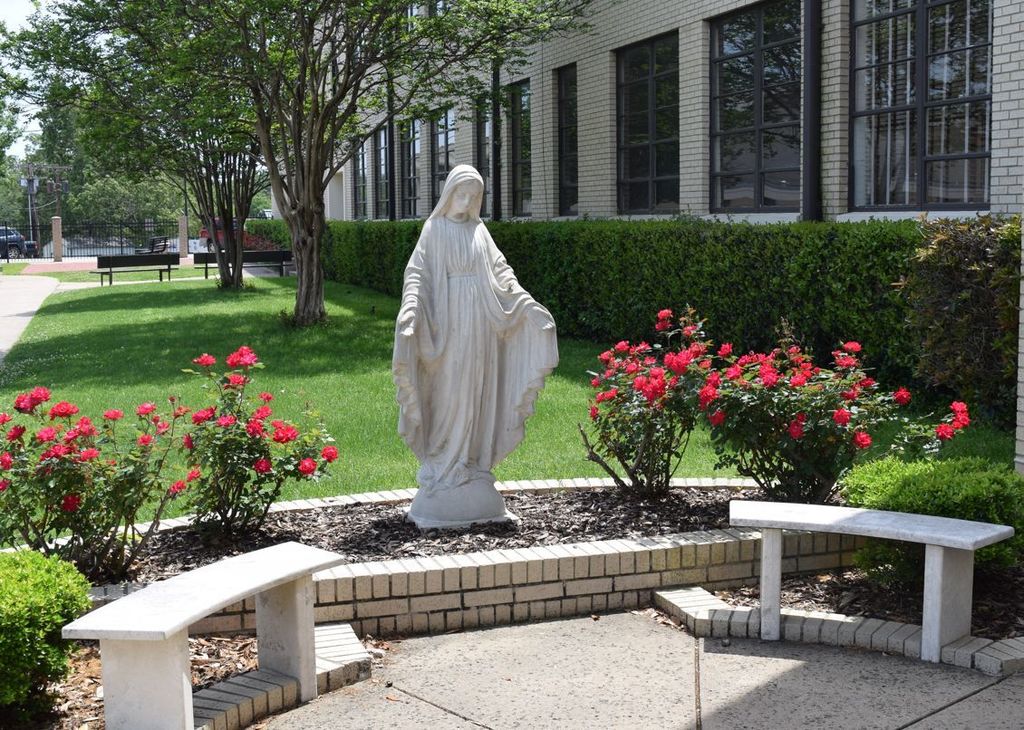 The #BGCru track and field team got up VERY early to head to the Regional Track Meet at UT-Arlington. Both BG boys' and girls' teams were district runners-up last week so we expect great things today! Cheer on the Crusaders on
https://www.tappstvnetwork.com/
#TAPPStrack #letsgo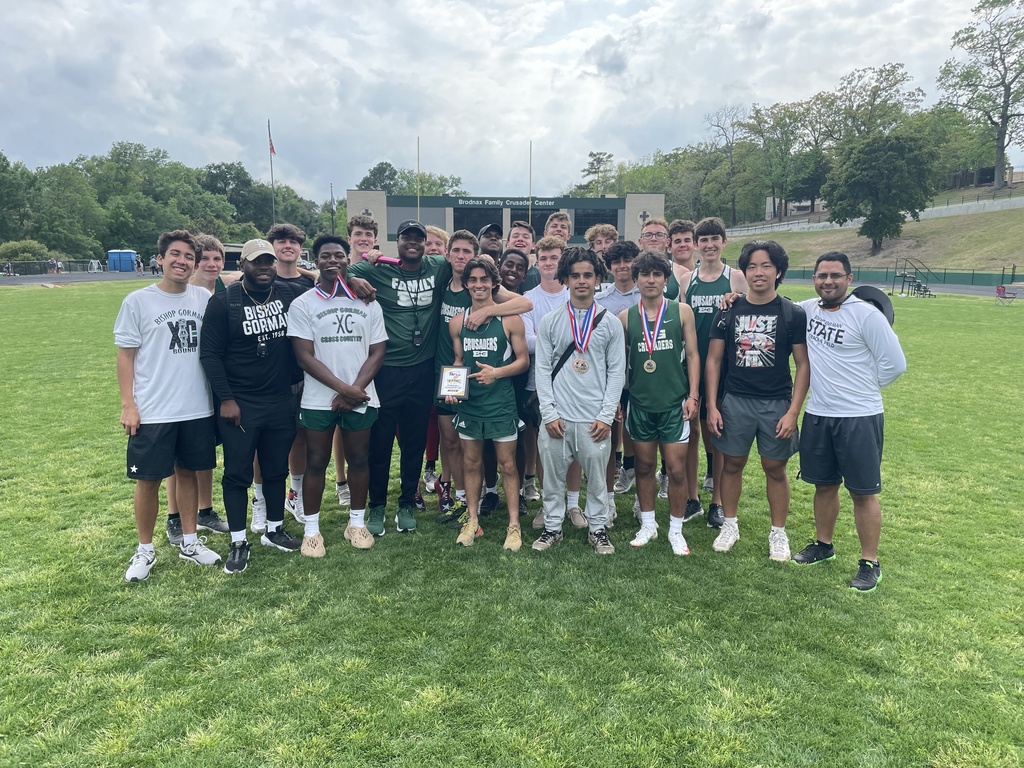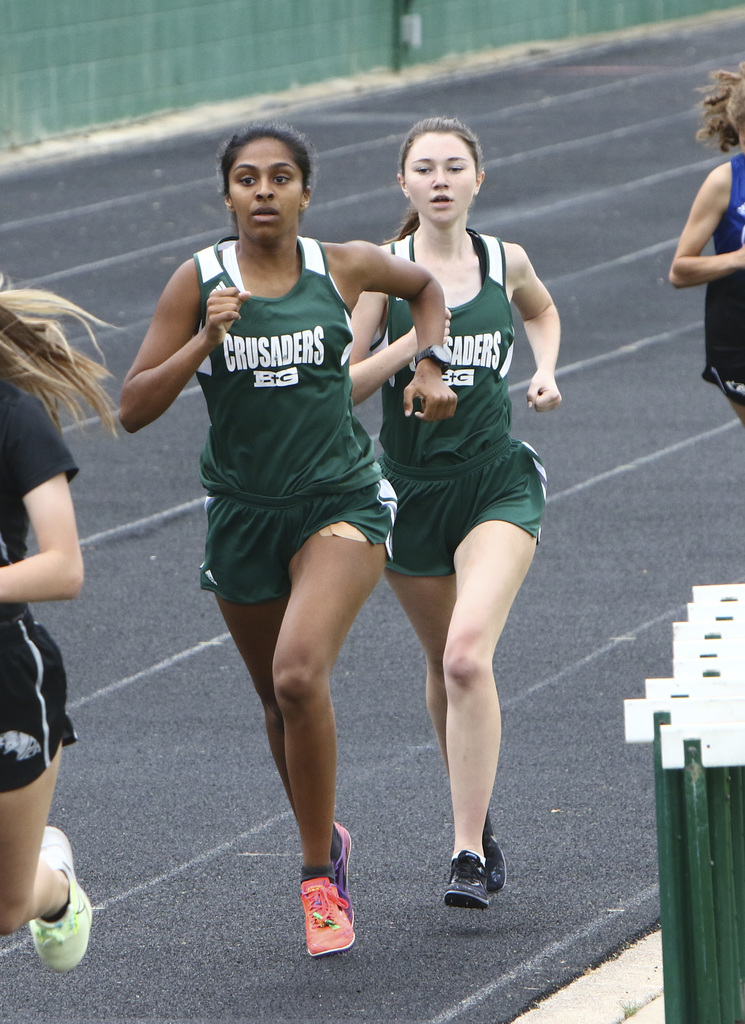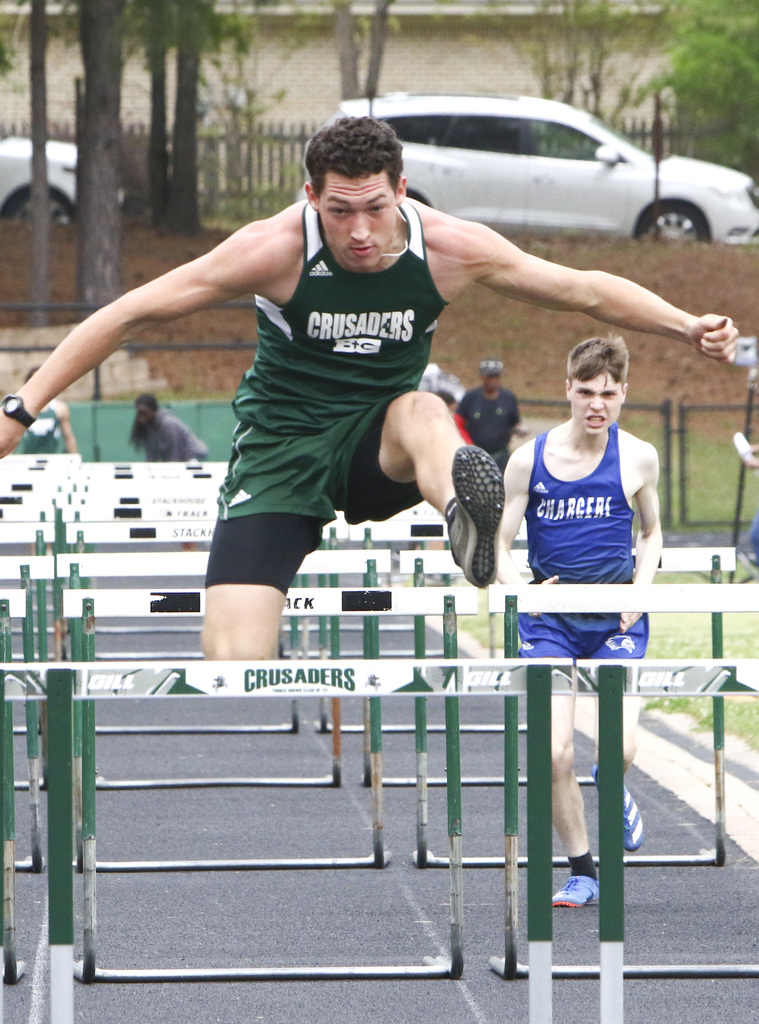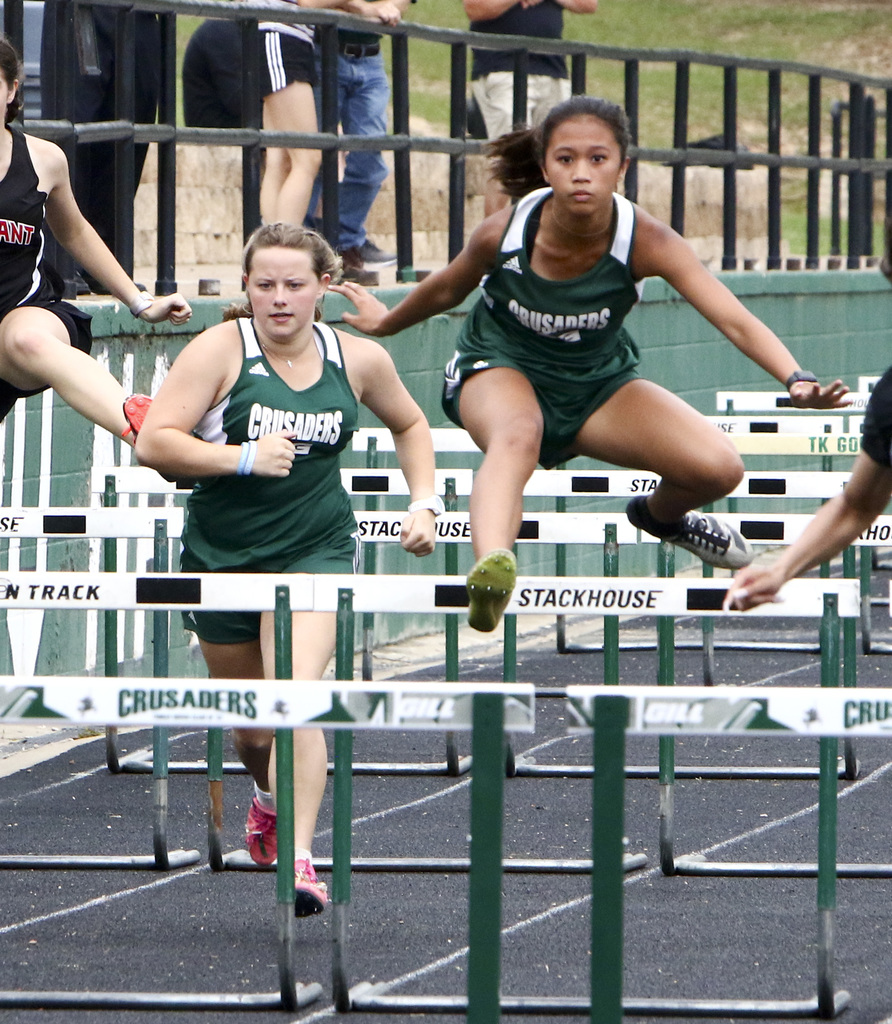 Come cheer on the Crusader baseball and softball teams at their 3 home games tomorrow starting with the BG Baseball team vs. Pantego at 12:30 p.m. Then the BG Softball team vs. Pantego at 2:00 p.m. followed by the BG Baseball team vs. Shelton at 6:00 p.m. Go Cru!

It's a full day at BG's McCallum Stadium tomorrow! Cheer on the #BGCru at the High School District Track Meet all day tomorrow beginning with running prelims at 9:00 a.m. Then join us for the Crusader Crawfish Boil from 3:30 p.m. to 7:30 p.m. Tickets may be purchased at the door while supplies last. #TAPPStrack #crawfish 💚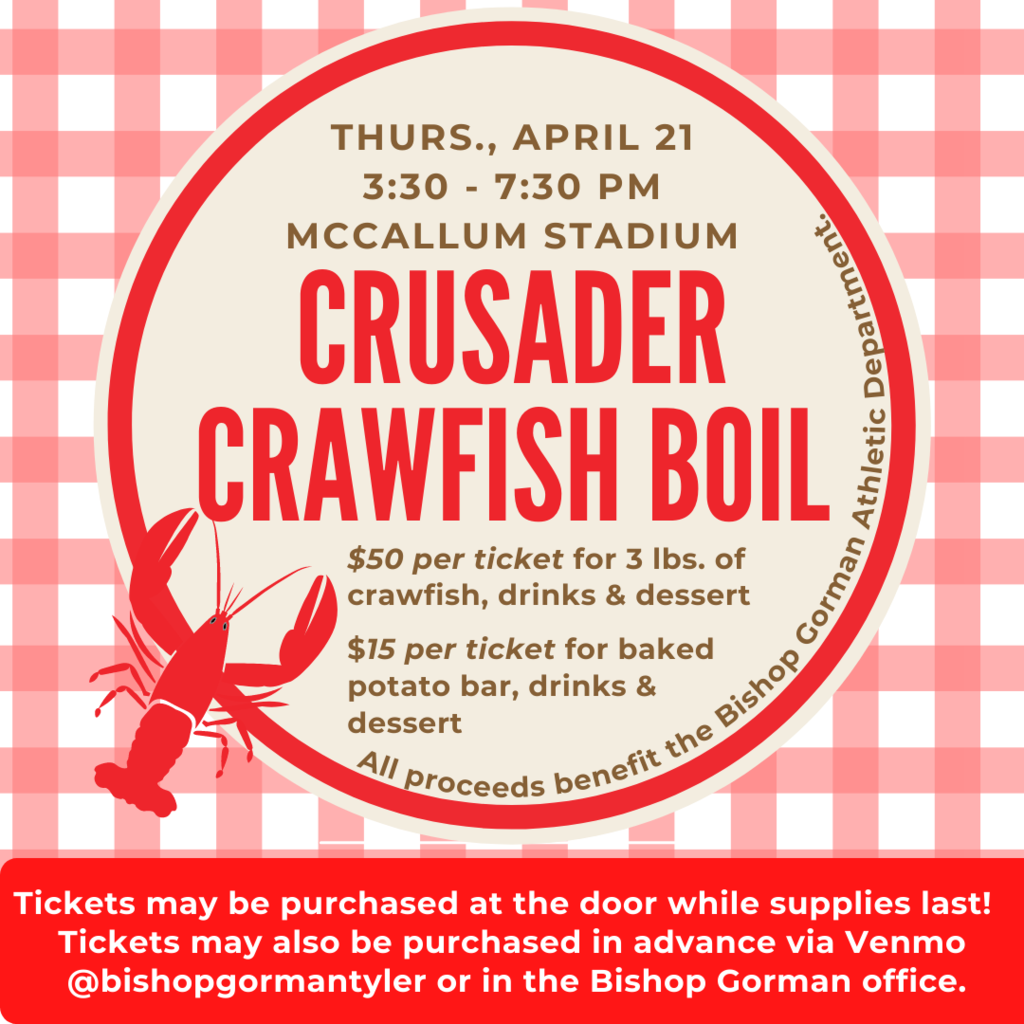 Congratulations to the BG Academic and Speech teams who traveled to Waco this week and captured 2nd place overall in the TAPPS 4A State Championship! Thanks to the hard work and dedication of all of the team members, Bishop Gorman won a total of 18 medals in 12 different events. Students placing at the TAPPS 4A State meet were: Science - Andrew Barclay - 2nd, Dominic Caccitolo - 3rd & Top Biology Calculator - Ellie Coan - 3rd, Maria Kariampuzha - 6th Spelling - Thomas Brown - 3rd Social Studies - Elizabeth Cater - 4th Literary Criticism- Laura McInnis - 1st, Emily Cater - 3rd Ready Writing- Laura McInnis - 2nd Current Events- Nathan LeBlanc - 8th Spanish - Gonzalo Alvarez del Real -1st, Melissa Perez - 2nd Poetry - Jessica Carmona -1st Solo Acting - KellyAnn Harrell - 2nd, Bella Schenck - 5th Prose - Jessica Carmona - 1st Persuasive Speaking - Alex Barriga - 6th, Bella Schenck - 7th #BGCru #TAPPSacademics #TAPPSspeech #academicexcellence💚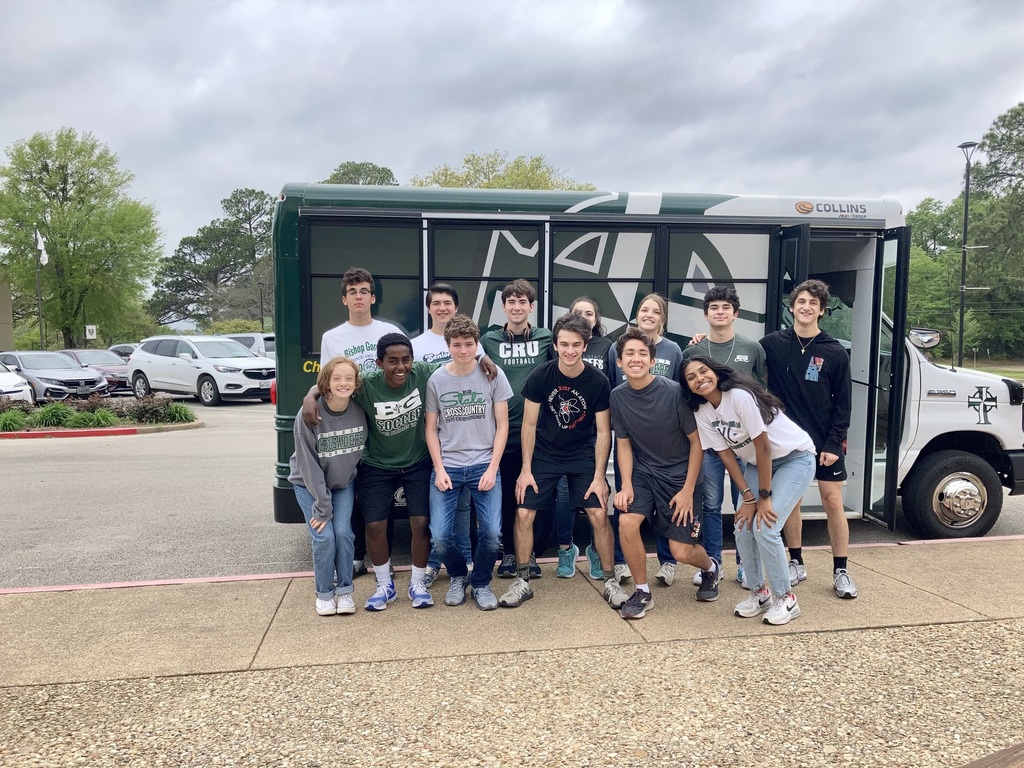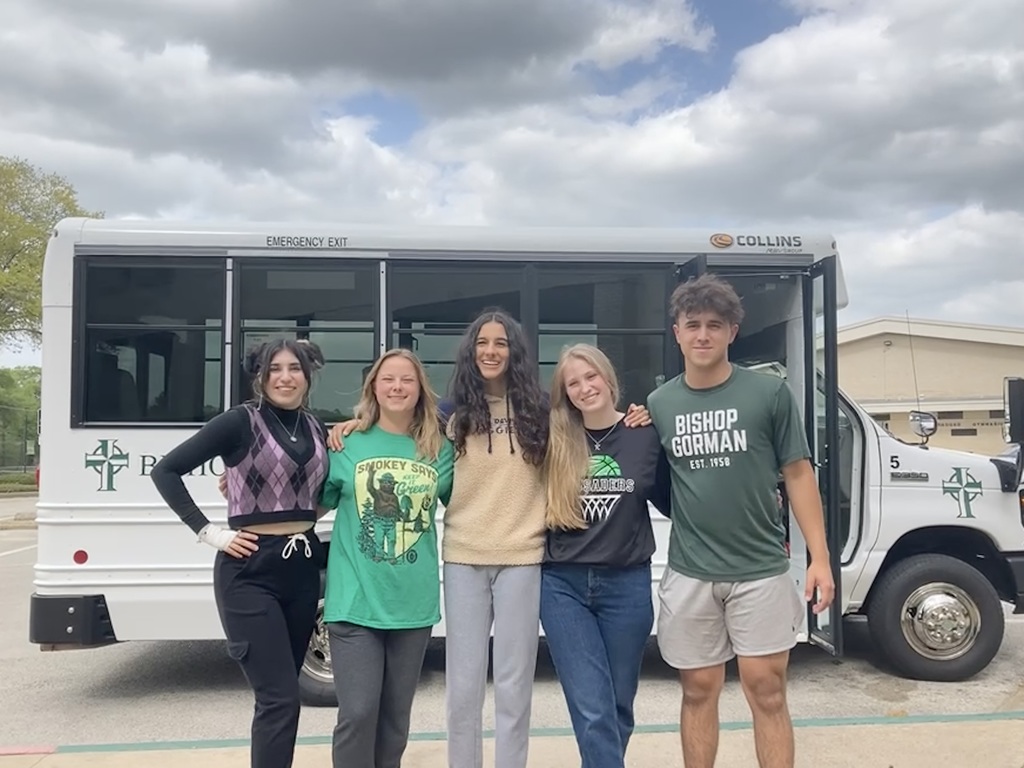 All are welcome to join us at the Crusader Crawfish Boil on April 21st from 3:30-7:30 p.m.! This will be a huge day on campus, as BG is hosting the district track & field meet and BG's baseball team will be playing at home. All Crawfish Boil tickets must be purchased in advance by April 14 via venmo @bishopgormantyler or directly from any BG coach. Proceeds will support the BG Athletic Department. Questions? Email Jon Froelich at
jfroelich@bishopgorman.net
.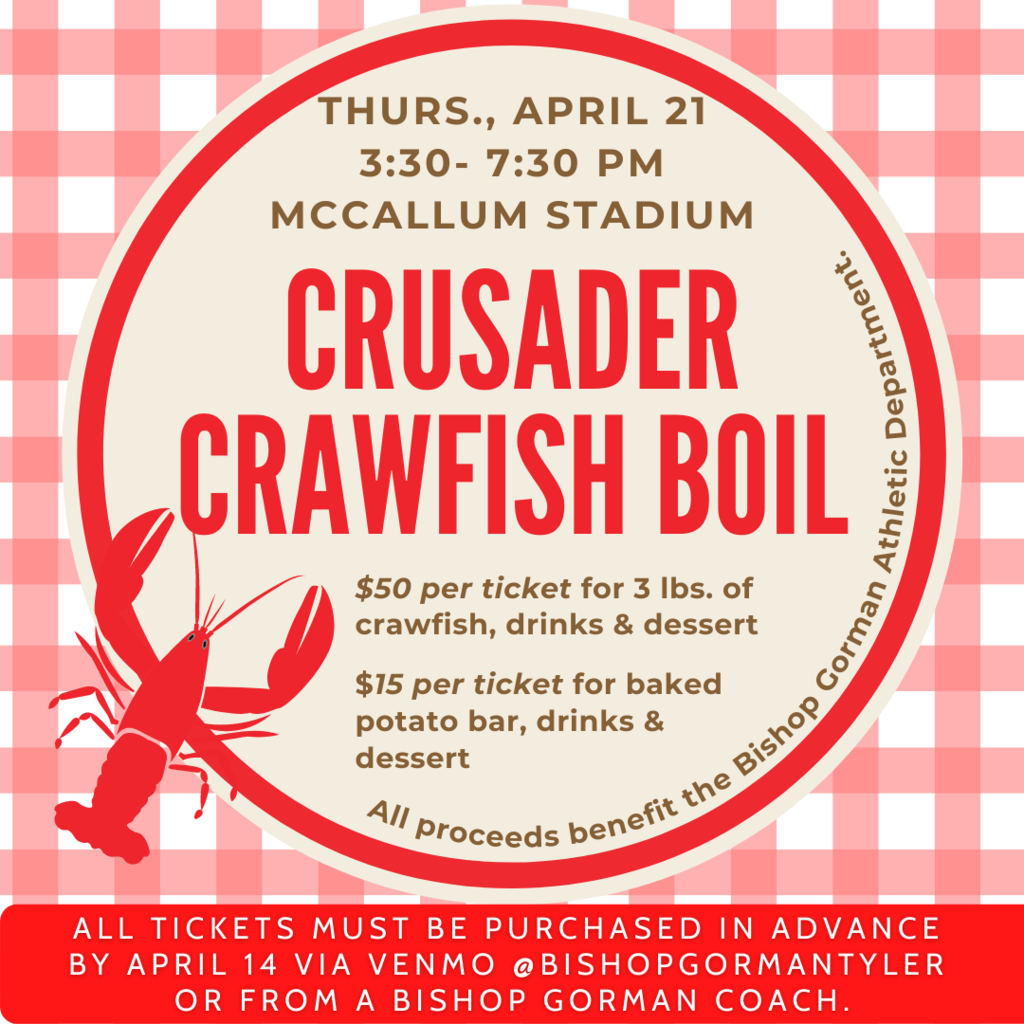 Good luck to senior Sid Cleofe of the BG Men's Basketball Team who is playing for Team North in the Scouting Report All-Star game at Emory Rains High School tonight! Sid has also been selected for the Azalea Orthopedics All-Star Event scheduled for Saturday, April 9th, at Tyler Junior College where he will be playing for the East Team. Sid earned All-District honors his sophomore, junior, and senior years and was named as a member of the All East Texas Basketball team his junior year. Senior Elizabeth Mahfood of the Lady Crusader Basketball Team will be a member of the East Team at the same Azalea Orthopedics All-Star Event! She will be joined by Bishop Gorman head coach Jon Froelich, who will be coaching the East All Stars. Mahfood finished her career at Bishop Gorman with 1,562 points and 1,230 rebounds. She was a three-time All-District selection and earned All-State honors twice. She was named district MVP her junior year and district Defensive Player of the Year as a senior. The Azalea Orthopedics All-Star girls game is at 5:30 p.m. next Saturday at TJC. The boys will tip off 30 minutes after completion of the girls game. The Azalea All-Star Event is a charity event with proceeds raised supporting the Bethesda Clinic in Tyler. Come out and cheer on our Crusaders! #BGCru 🏀 💚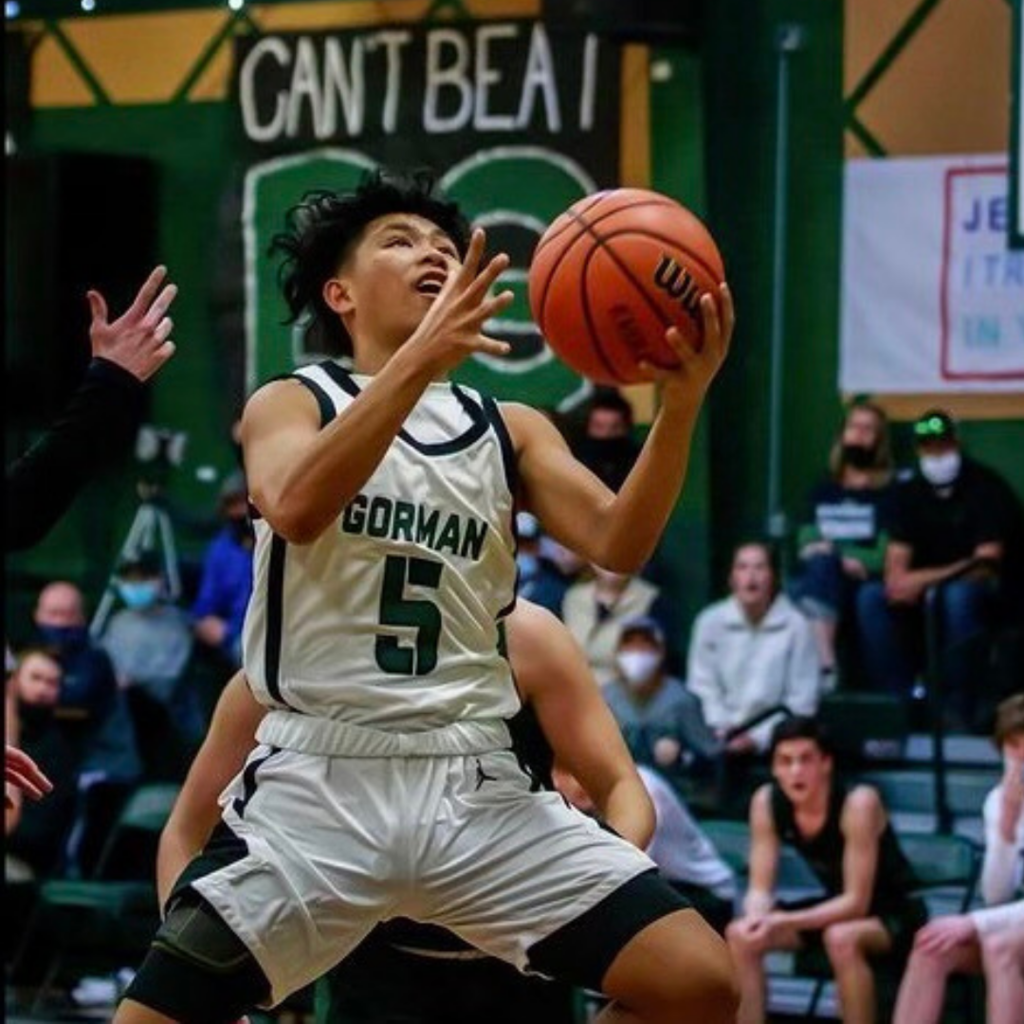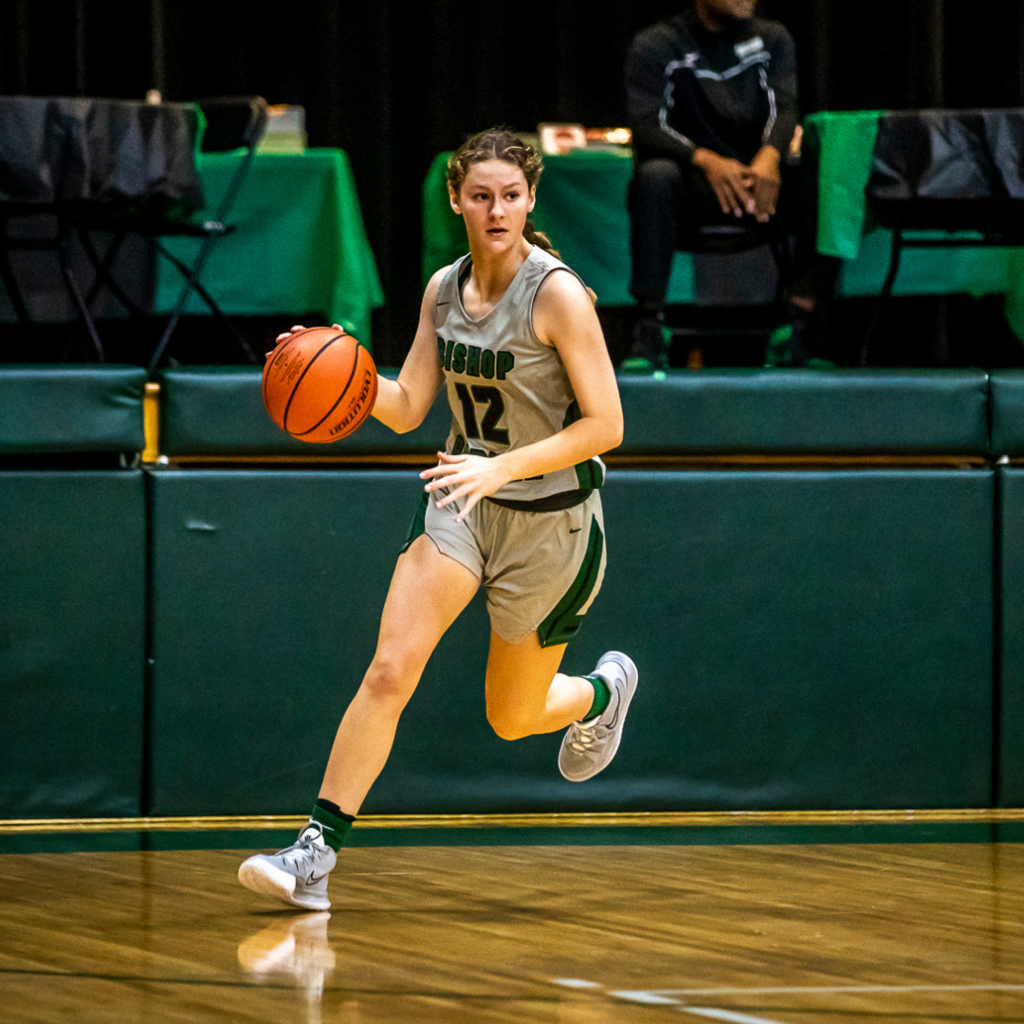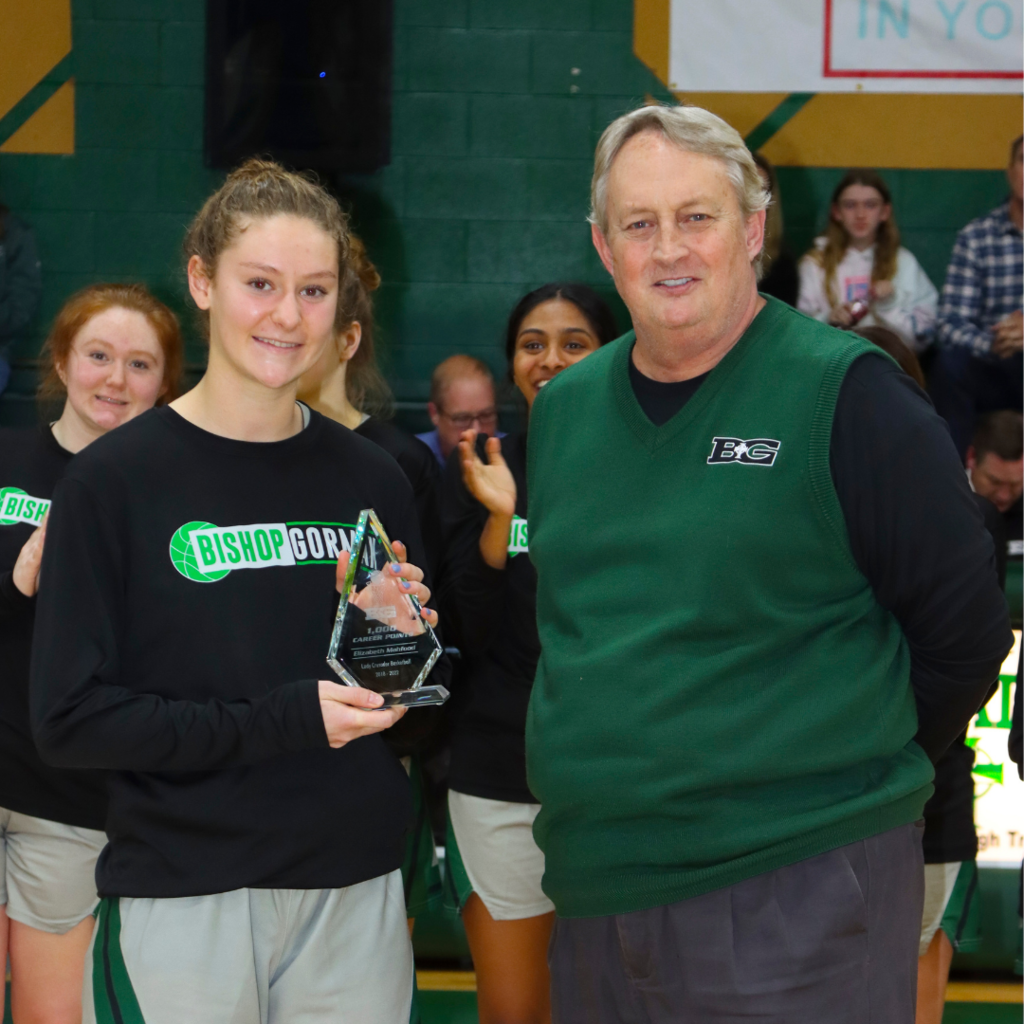 The BG senior class recently visited the Ahavath Achim Synagogue in Tyler to gain a greater understanding of our shared heritage with the Jewish community. The seniors also toured the kosher kitchen and learned about Jewish dietary law. Thank you to Rabbi Learner for hosting the Class of 2022!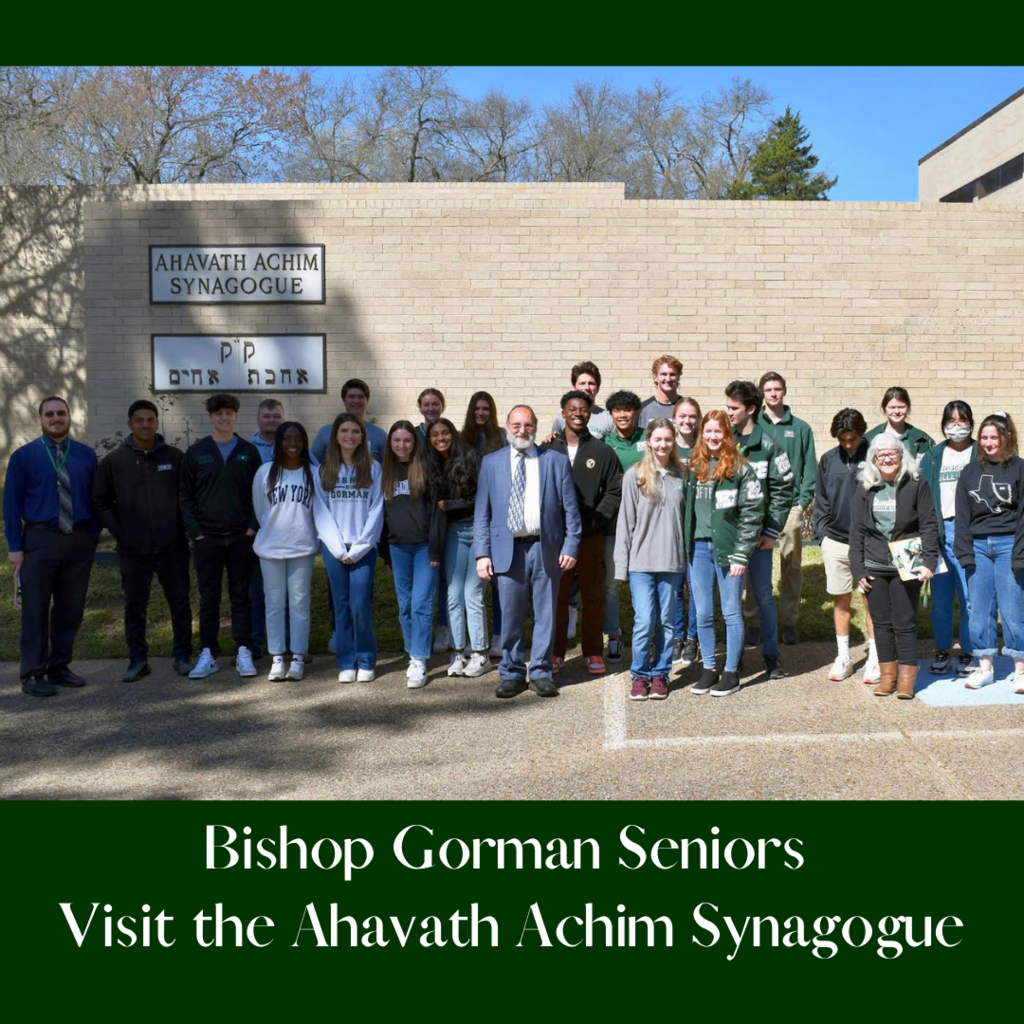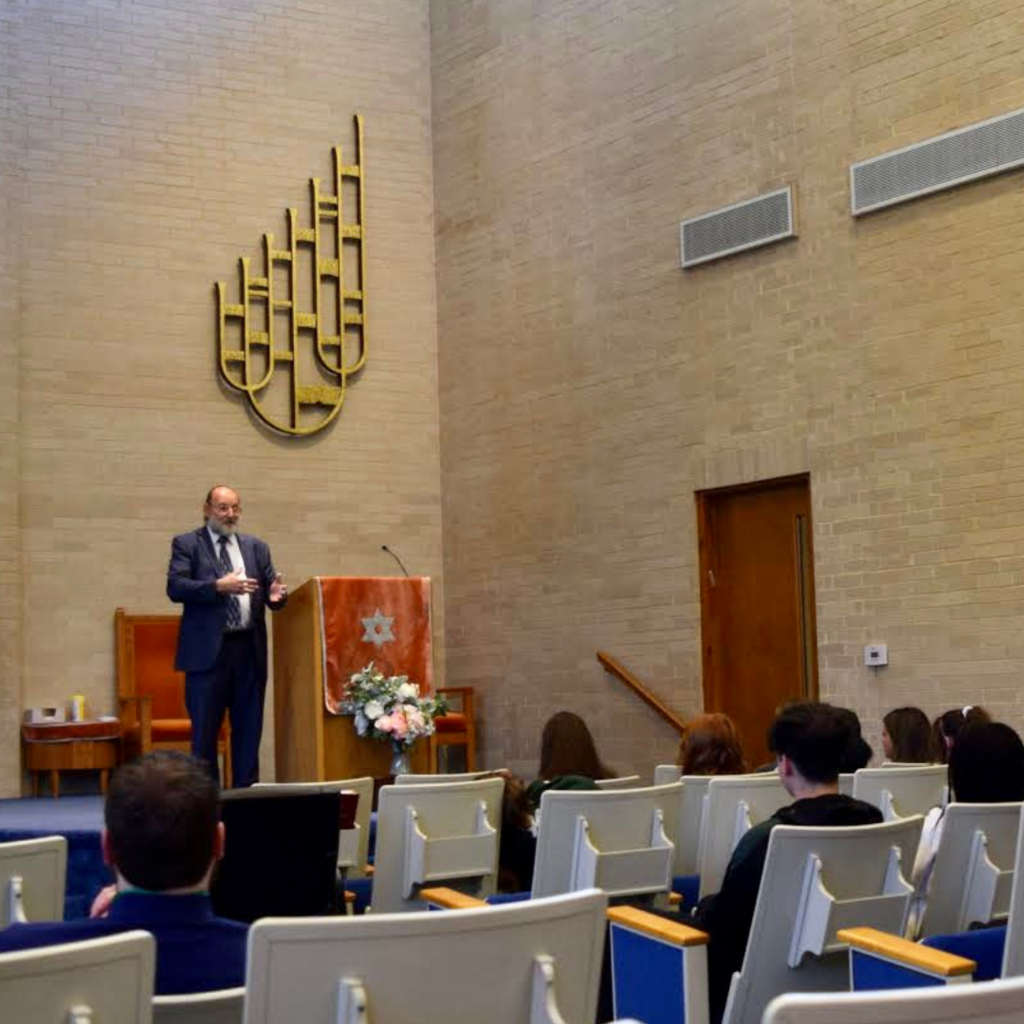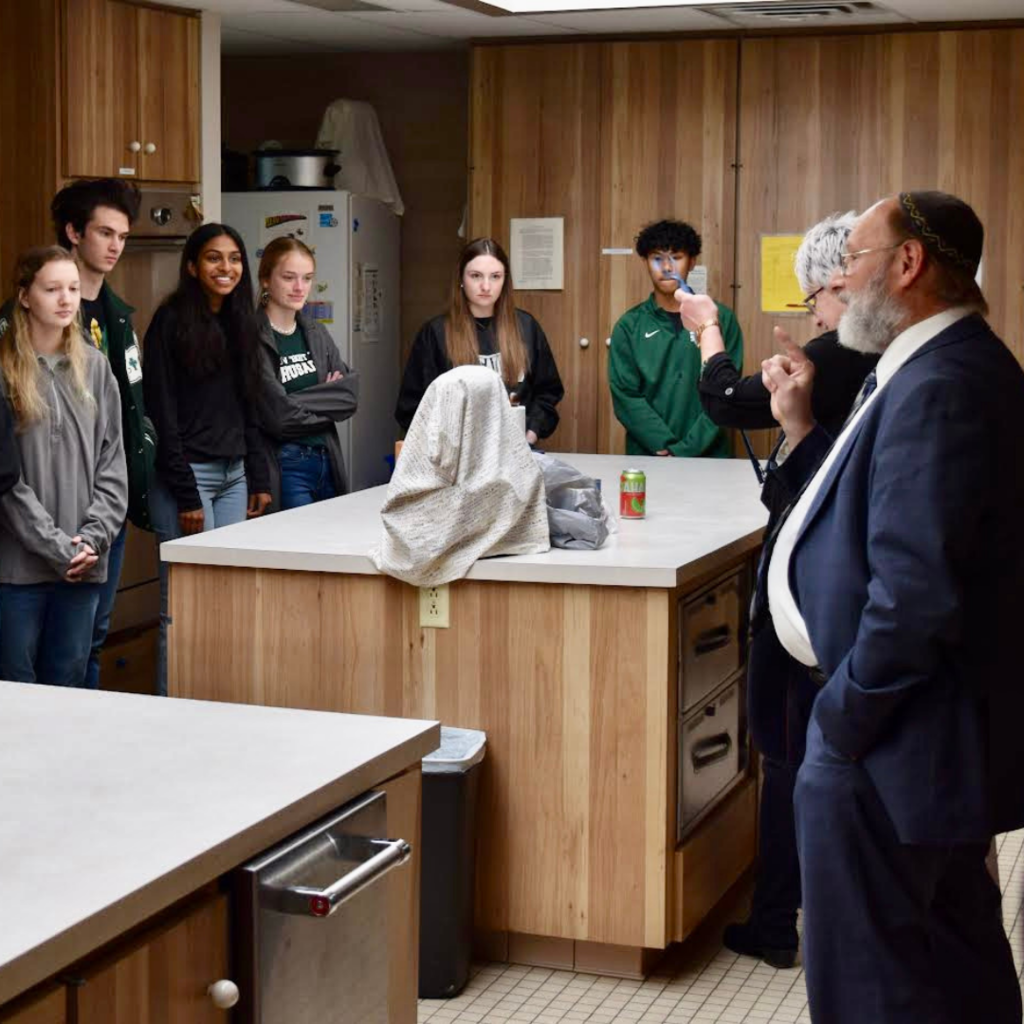 #ThrowbackThursday Do you remember searching the card catalog for books for your research papers? Meeting your friends to work on a project? Cramming for tests or just reading a book for fun? The Holy Family Library at BG is still filled with students each day - a favorite spot to do all of the above (well, except for the card catalog)! Shout out to our beloved librarian media specialist, Mrs. Elizabeth Alexander (Class of 1999) - she's the best! #BGCru #TBT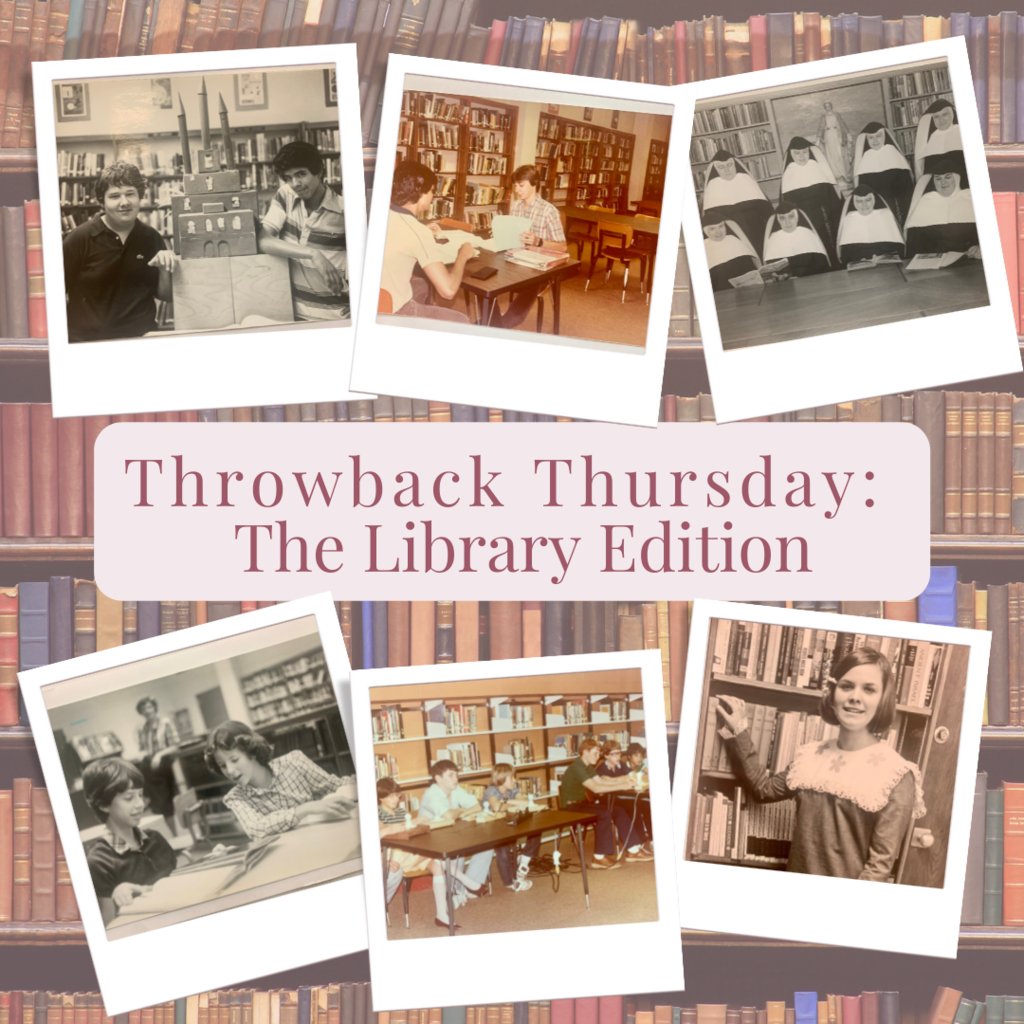 And the winner of the BG Best Class Ever bragging rights - drumroll please - is the Class of 2020! Thank you to all of our donors! #BGCru #bestclassever #classof2020 🏆💚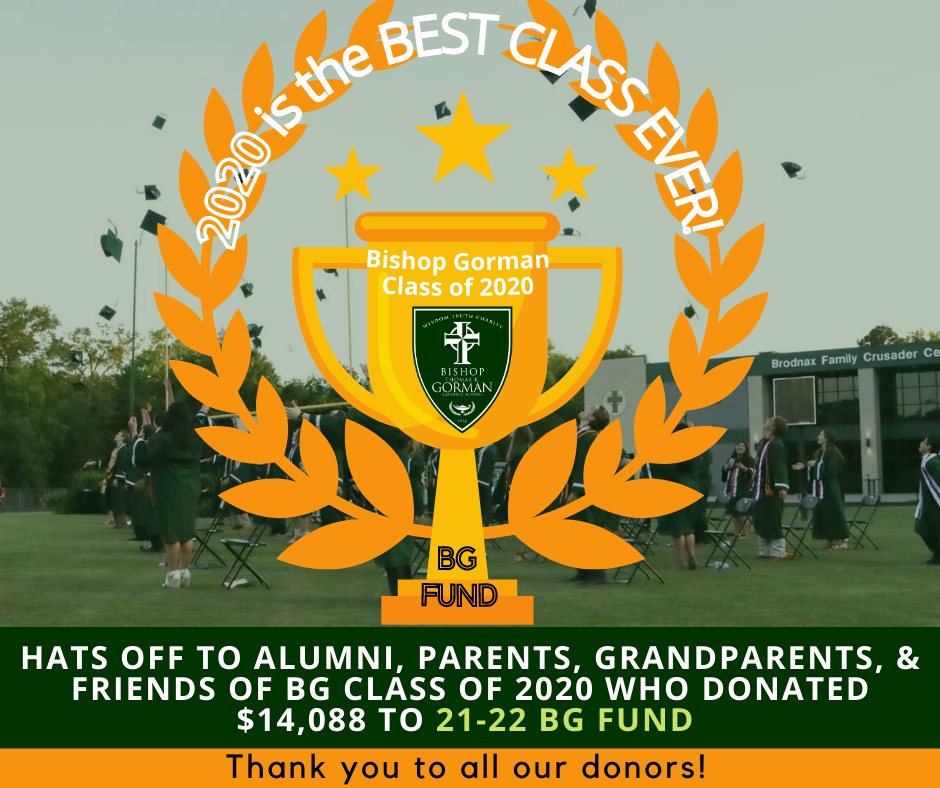 LAST CHANCE! There are only 2 more days left to participate in the #BGCru alumni giving contest for Best Class Ever bragging rights! Click here to give:
https://www.bishopgorman.net/giving/
Already gave? Encourage your classmates to help your class secure the lead! 🏆💚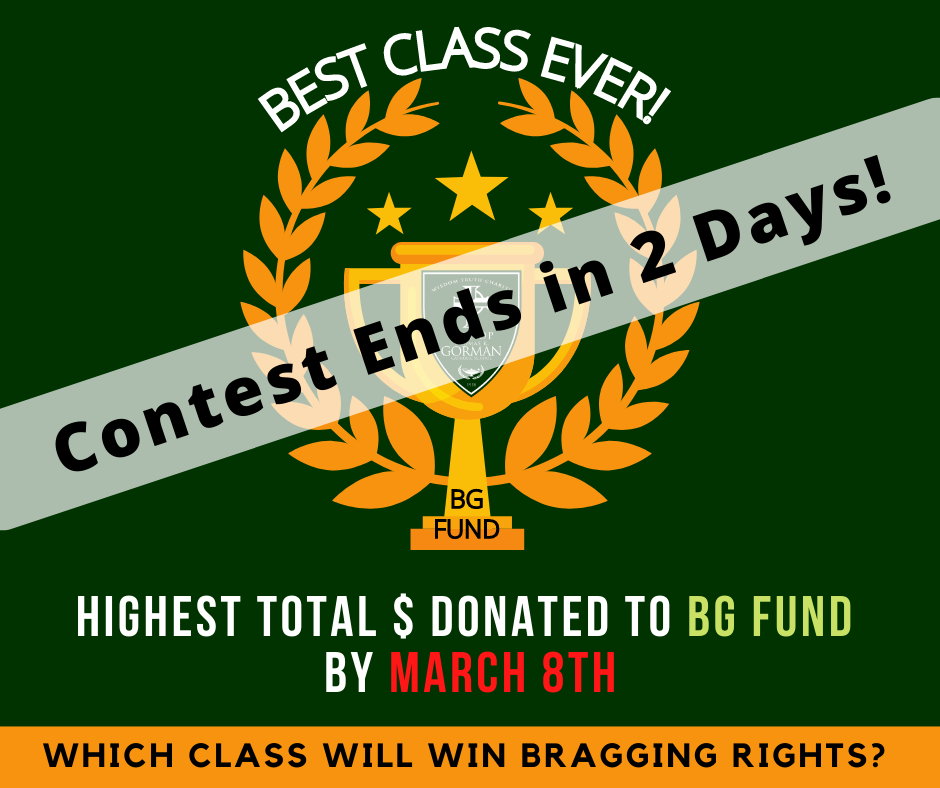 Please join us for the Taizé Worship Service this coming Tuesday, March 8, at 7:00 p.m. in the Chapel of Sts. Peter & Paul. The music and readings will be led by the Bishop Gorman Choirs and Music Ministry. #BGCru #Lent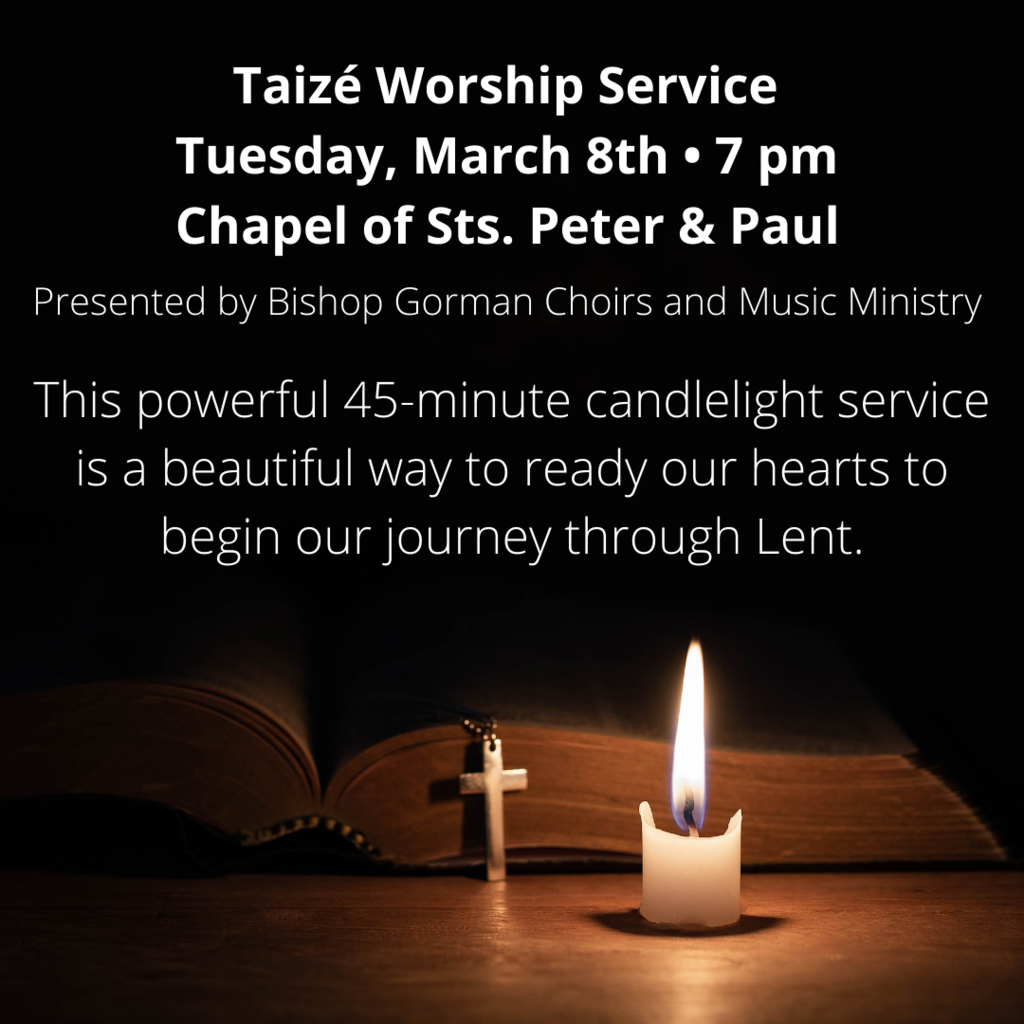 Watch the #BGCru game here: youtube.com/watch?v=63pSiCoHA2M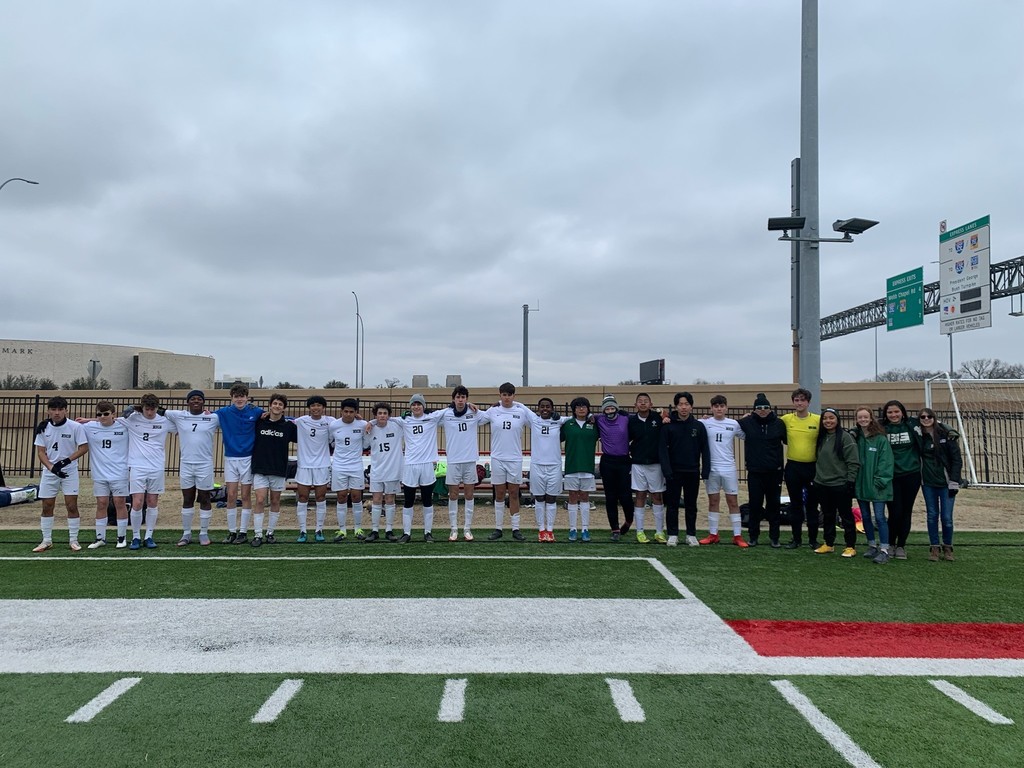 LET'S GOOOOO! Our BG Crusaders kick off against the Covenant Knights TODAY at 10:00 a.m. Go Cru! #BGCru ⚽💚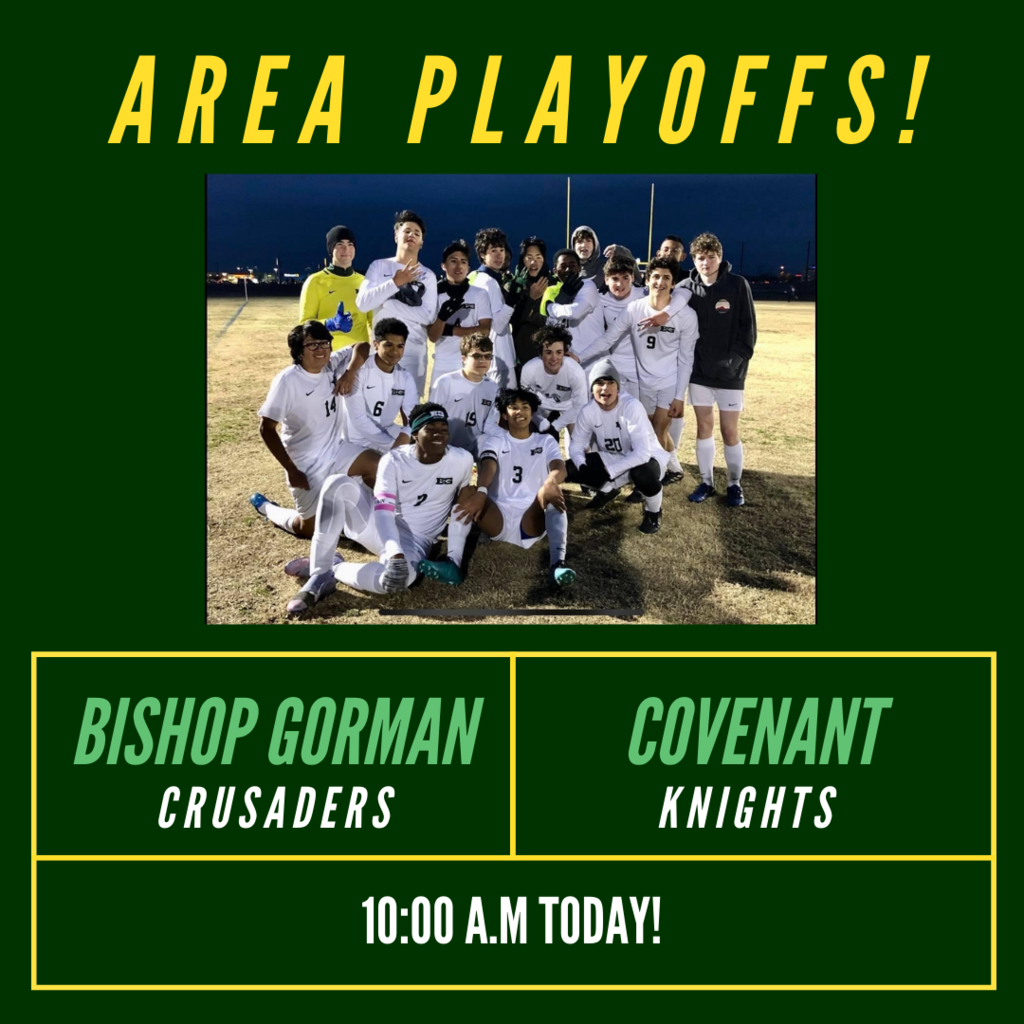 Congratulations to Varsity Soccer!! Won playoff game tonight! 2-1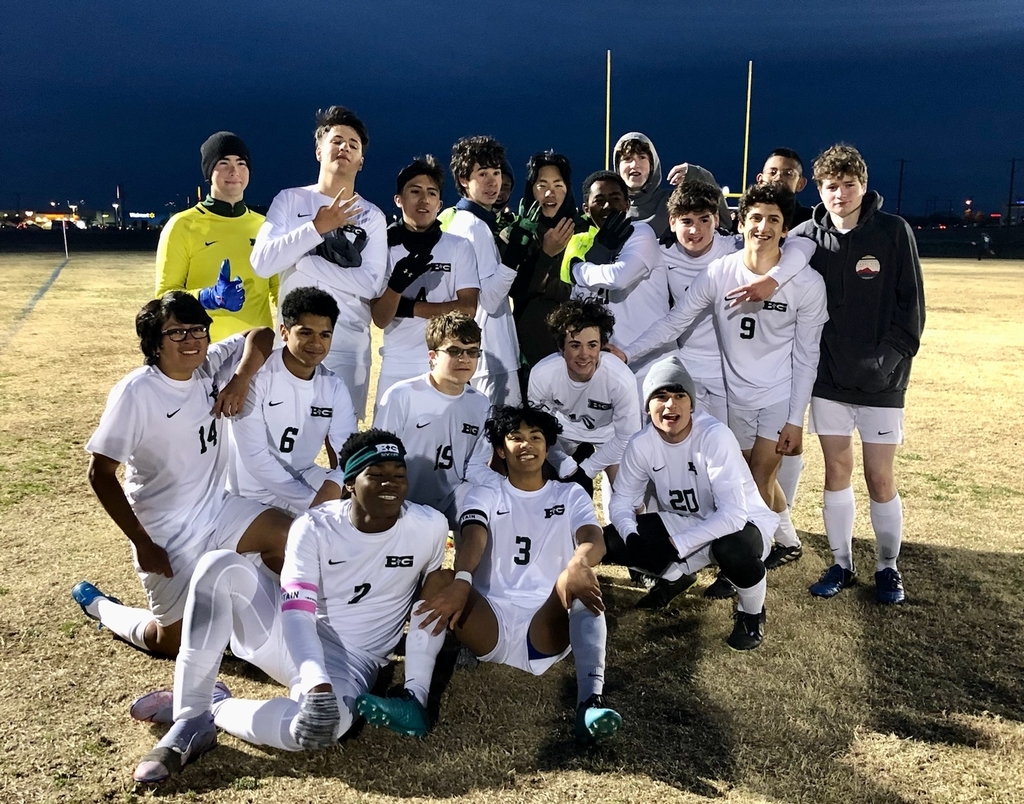 Calling all Crusader fans! Come support the #BGCru high school track & field team TODAY for their season opener at McCallum Stadium AND support the athletic department. 30% of all proceeds from Tom's Coffee Truck go back to BG Athletics. Something tells us their hot beverages will be very popular! 2:30 p.m. Shot/Discus; 3:00 p.m. 3200; 4:00 p.m. Running Events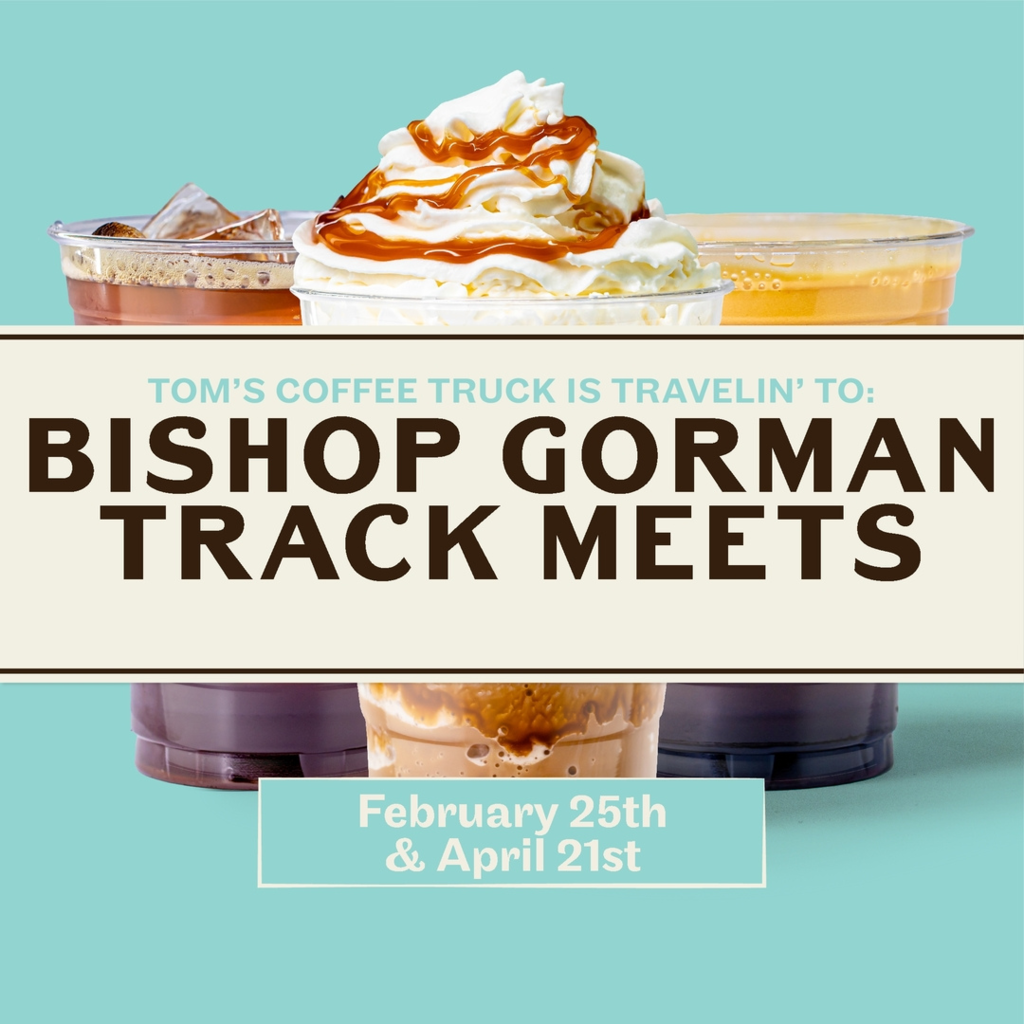 Due to the weather, today's soccer playoff game has been postponed to 5:00 p.m. on Friday, February 25, at Holy Trinity in Temple. LET'S GOOOOOO! #BGCru